Cloudways Review – The Best Cloud Hosting Provider of 2022?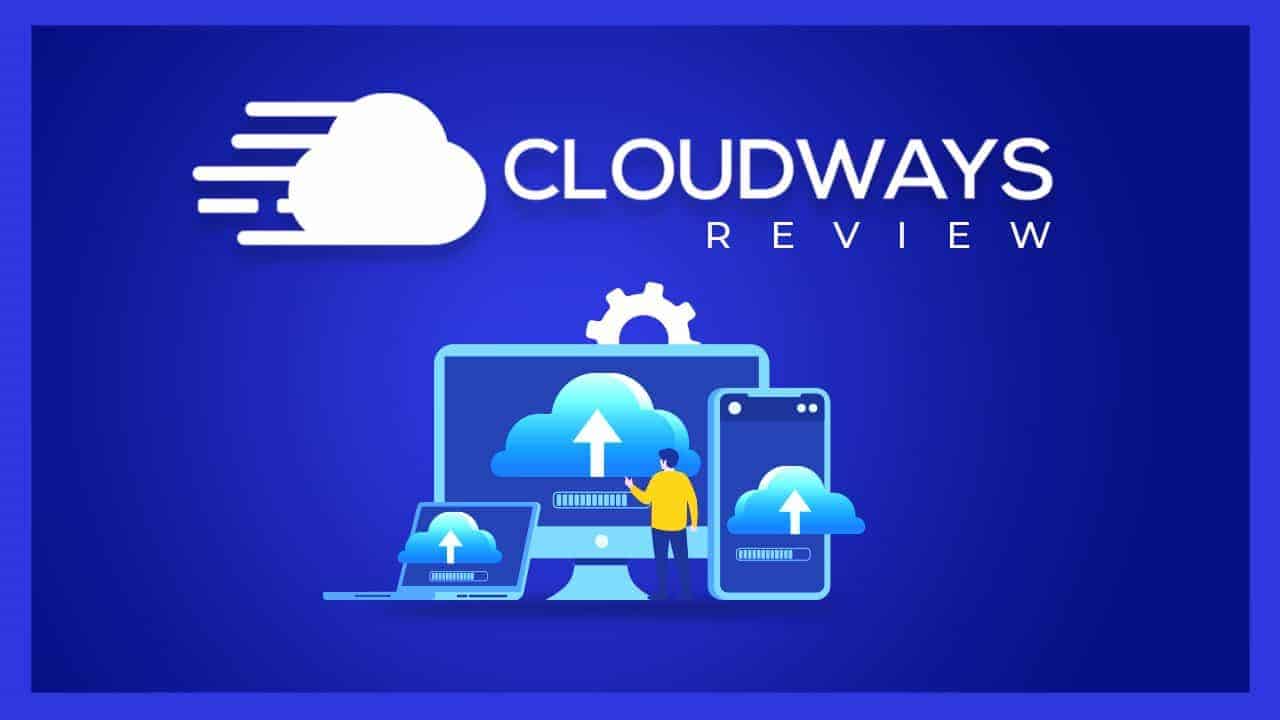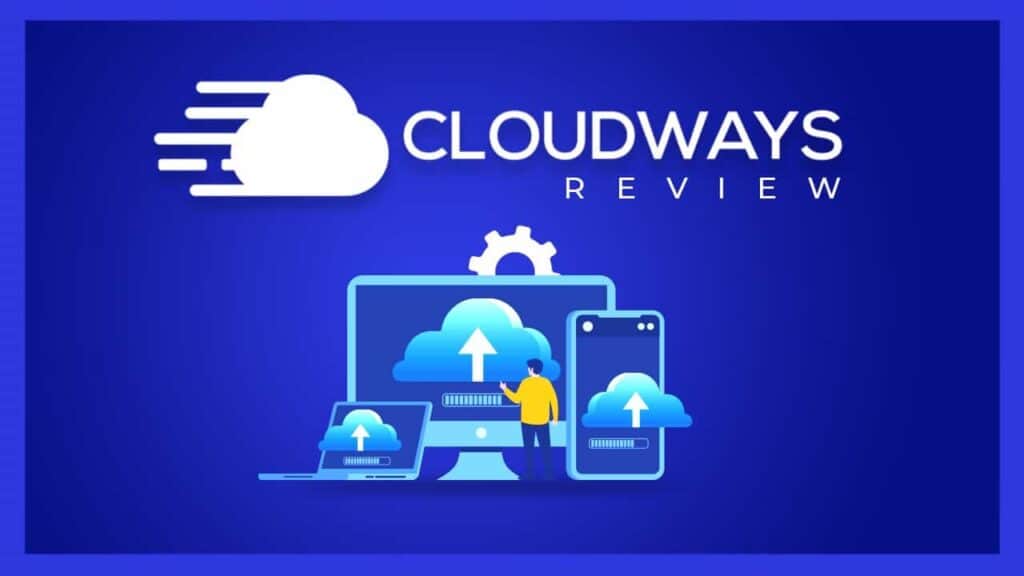 Cloudways is among the finest cloud-based managed hosting providers, but is it the best solution for you? That we'll find out today.
For instance, in this detailed Cloudways review, we'll explore how Cloudways works, its pros and cons, and who it suits the most. Moreover, we'll also look into its pricing to see if it offers a good value for your money. Let's get started.
Cloudways: Quick Overview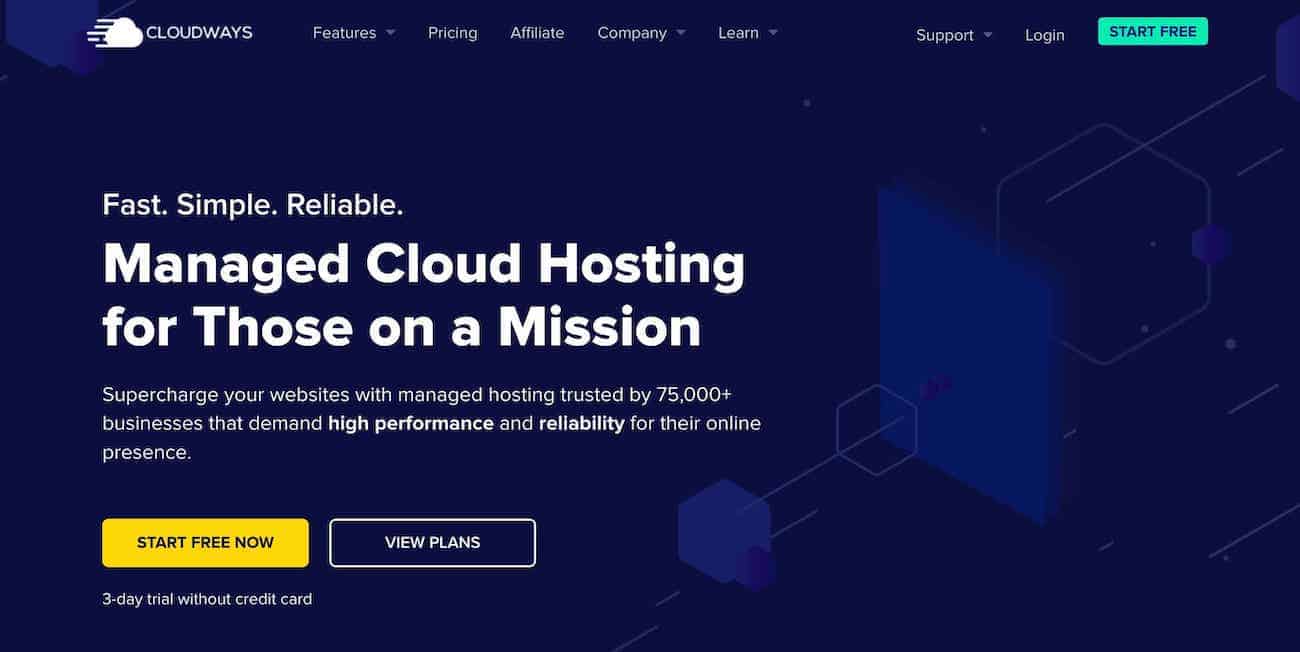 Cloudways is a managed cloud hosting provider that serves freelancers, digital agencies, developers, and eCommerce businesses.
As it offers a managed service, you won't need to configure your server, manage its security and updates, and perform other maintenance tasks on your own. Instead, the team of Cloudways will look after your server so you can focus on more important aspects of your business, like its marketing and systems.
Cloudways came out in 2012 and doesn't have cloud servers of its own. Instead, it uses the infrastructure of other top cloud providers like Digital Ocean, Vultr, Google Cloud, Amazon Web Services, and Linode. You're free to pick any of these cloud services at Cloudways.
Whichever option you pick, Cloudways' team will configure and manage your cloud server to ensure it handles your projects smoothly, round the clock.
Moreover, Cloudways supports a wide array of content management systems (CMS) to ensure it suits most businesses. These include all the popular ones; WordPress, Magneto, Laravel, and PHP.
Here we'll explore the top benefits of Cloudways:
Whether you're creating a blog, an eCommerce shop, or a SaaS app, you'll want it to be accessible 24/7. For that, you need your cloud server to be running round the clock, without any interruptions. Cloudways ensures that by using cloud infrastructure of only the most reliable platforms like Google Cloud.
Apart from that, Cloudways also brings forth a 99.99% uptime guarantee to give you peace of mind. The proactive server monitoring by Cloudways' team ensures your server is up all the time without any issues. In our tests, Cloudways' uptime never dropped from 100%, which is ideal.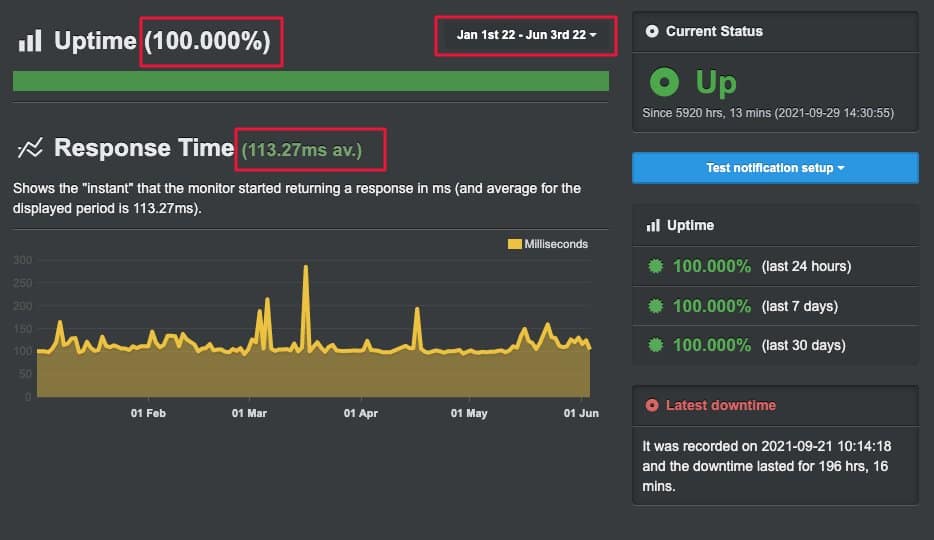 As the traffic of your website or app increases, you'll need more hardware resources in your cloud server. Cloudways understands that and offers easy server scalability. With this feature, you're allowed to tweak your server resources anytime as needed. Most importantly, you won't have to ask Cloudways for confirmation – the process will be simple, quick, and automated.
Customer support is the first thing that comes to mind when something goes wrong with your website or hosting. That's why picking a WordPress host with satisfactory customer care service is crucial. You should ensure the solution you consider offers a round-the-clock support service available through multiple channels.
Thankfully, Kinsta offers a remarkable support service that's accessible 24/7. Their support staff is knowledgeable, friendly, and prompt. On top of that, they're WordPress experts to ensure they have expertise in what they guide on. That said, you can contact Kinsta's support through live chat and email. They also offer a detailed knowledge base for self-service enthusiasts.
WideSpread Server Locations
Your website must load fast or most of your visitors will bounce off. With Cloudways, you can ensure top-tier loading speeds so you can welcome your visitors with a blazing-fast loading performance. Many features add up to Cloudways' performance, like:
CDN Integration
CDN (content delivery network) is a feature that distributes your site's content across various worldwide server locations. This way, your visitors are served from the nearest location so they can access your website quickly. Cloudways includes the Cloudflare CDN for free with all its managed cloud servers.
SSD-Based Servers
To ensure a good performance of your website or app, Cloudways only uses SSD-based cloud infrastructure. To back up, SSD storage drives are many times faster than traditional hard drives, ensuring fast transfer of your site's data to your visitor's device.
Advanced Caching
Cloudways uses a variety of caching technologies to provide optimized performance. For instance, its stack uses Memcached, Varnish, and Nginx for quick response times. Moreover, Cloudways also includes Breeze, a WordPress caching plugin that improves the performance of WordPress websites.
Getting started with a cloud server at Cloudways is much different from setting up an unmanaged server. It's because, at Cloudways, you won't have to configure your server on your own. Instead, Cloudways' professionals will install the operating system, required programs, security firewalls, backup systems, and other features themselves. This way, you'll stay away from the technical aspects of using a cloud server.
That said, developing a new server at Cloudways is quick and easy. You can create a new server anytime by specifying its hardware resources, operating system, and other details. Once you've specified the details, your server will be ready for use within a few minutes.
Quick WordPress Installation
As mentioned before, Cloudways offers one-click WordPress installation. Essentially, WordPress will be pre-installed on your Cloudways account; you'll only have to activate it. Once you do that, you'll be able to access the WordPress dashboard of your website and start customizing your website. The same goes for some other CMS platforms available at Cloudways, like Magneto.
As Cloudways has optimized its services for agencies and teams, it offers a variety of collaboration features. Firstly, you can create multiple projects to keep them separate and add team members to different projects. This will be highly effective for agency owners handling multiple clients simultaneously.
Moreover, you can switch between different teams quickly by using the drop-down menu on Cloudways' interface. Once you select the desired team, you'll be able to track the projects it's working on and make changes as needed.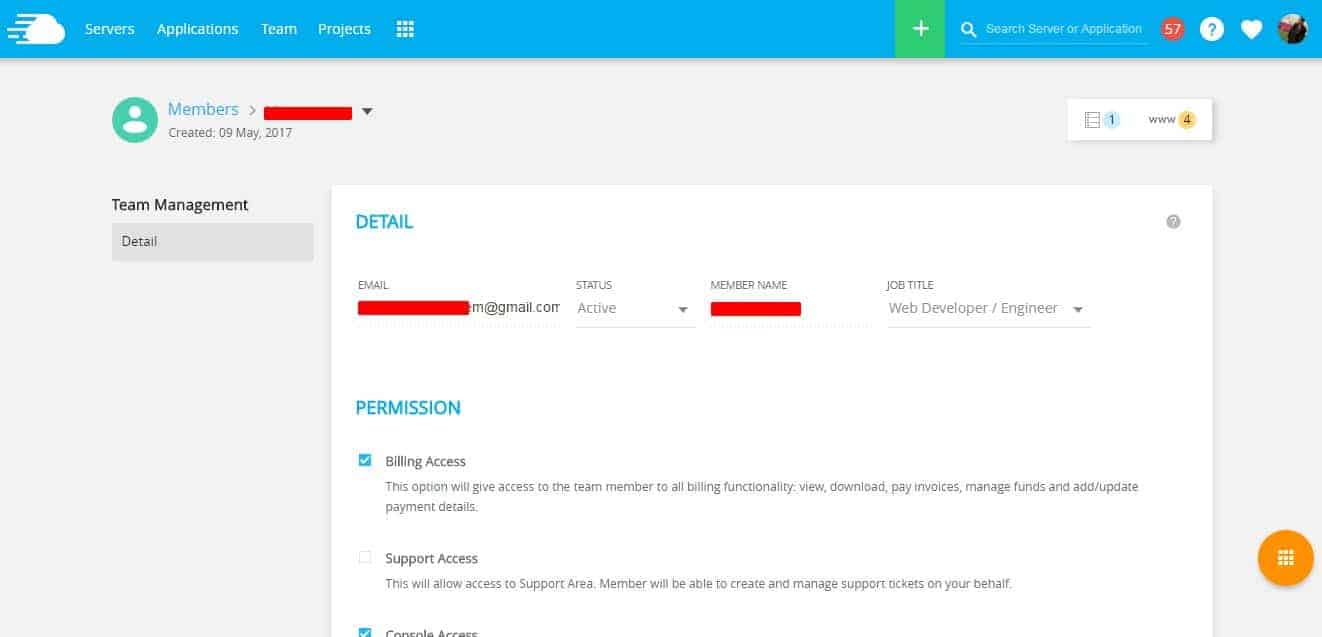 When you choose a standard subscription, you have to pay for the server whether you use its resources or not. But with the pay-as-you-go billing policy, you can only pay for the resources you use, so only the running servers cost you.
You can use this option at Cloudways only if you select Google Cloud or Amazon Web Services. Note that you'll still need to pay for the disk space even if your server is inactive, as your data will be stored in that. But if you select one from DigitalOcean, Linode, or Vultr, you'll need to pay in full even if the server is inactive.
The customer support of Cloudways is not the best but it's satisfactory for most users. You can access its support service 24/7 to fix your issues, ask queries, and report bugs. Unlike most managed cloud providers, Cloudways offers three tiers of support service, which are explained below.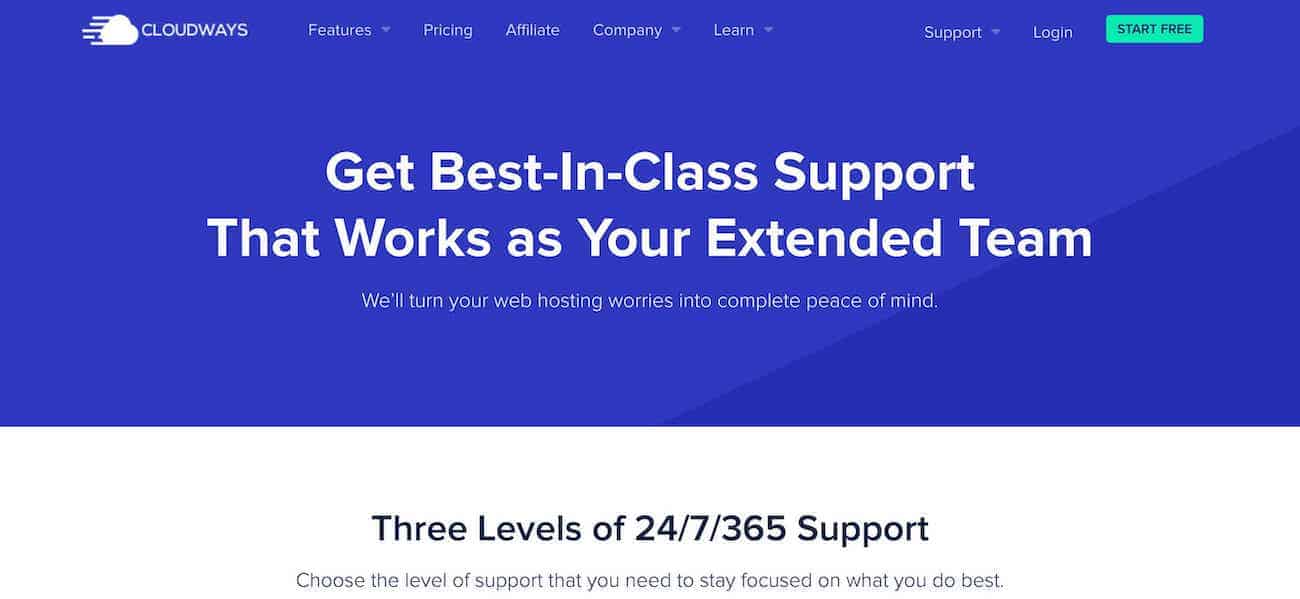 Cloudways' Standard Support is available for anyone to access, round the clock, without any extra cost. This entry-level support service lets you contact a Cloudways support agent via live chat. In our experience, the response time of Cloudways' live chat support was decent, as we got our answers within a few minutes.
This support add-on comes at an extra cost and provides access to priority support, ensuring faster response times. Moreover, a variety of extra features is included with this tier of support, like a dedicated account manager, server customization, and proactive monitoring.
Cloudways recommends its Premium Support Add-On to mission-critical businesses seeking a reliable cloud hosting service. The key feature of this support tier is the private Slack channel that puts your team in contact with Cloudways' senior support engineers. Moreover, you also get in-person phone support with the Premium Support Add-On at Cloudways.
If you're looking to create an eCommerce website, you'll be glad to know Cloudways offers eCommerce-friendly cloud hosting services. Cloudways hosts over 10,000 online shops on its platform. That said, it's compatible with various eCommerce platforms, including WooCommerce, Prestashop, and Magento.
Speaking of Magneto, Cloudways offers one-click installation for this CMS system. You can also install WordPress with a single click, which you can use to integrate WooCommerce with your website. Anyway, some other eCommerce-friendly features of Cloudways are multi-SSL deployment and access to SSH and Git environments.
If you have an existing online shop that you want to transfer to Cloudways, you'll be surprised to know it offers a free site migration. Whether you're running a Magneto or WordPress-based store, Cloudways is open to transferring your website on its servers.
Below we'll look into the main downsides of Cloudways:
Email Hosting is Unavailable
Unlike many hosting providers like DreamHost, Cloudways excludes email hosting. This means you won't be able to buy professional email accounts from Cloudways. Instead, you'll need to purchase the email from another hosting provider offering email hosting and integrate it with your Cloudways account or domain manager.
Doesn't Offer Domain Registration
Like email hosting, Cloudways also lacks a domain registration service. So, unless you have a domain name already, you'll have to purchase it from a domain registrar and connect it to your hosting account at Cloudways. You can pick a single provider for domain registration and email hosting for easy integration, management, and payment.
Account Creation is Not Very Smooth
Though the process of signing up at Cloudways is quite straightforward, there will be a few hurdles you may face. Most importantly, Cloudways requires some users to provide their ID card details for verification. If you cannot provide the ID details, your account will not be approved.
As mentioned before, Cloudways uses the infrastructure of different cloud hosting providers, including DigitalOcean, Vultr, AWS, Google Cloud, and Linode. The pricing of your Cloudways package will depend upon which of these providers you pick at Cloudways. That said, here we'll explore Cloudways' pricing for all these services: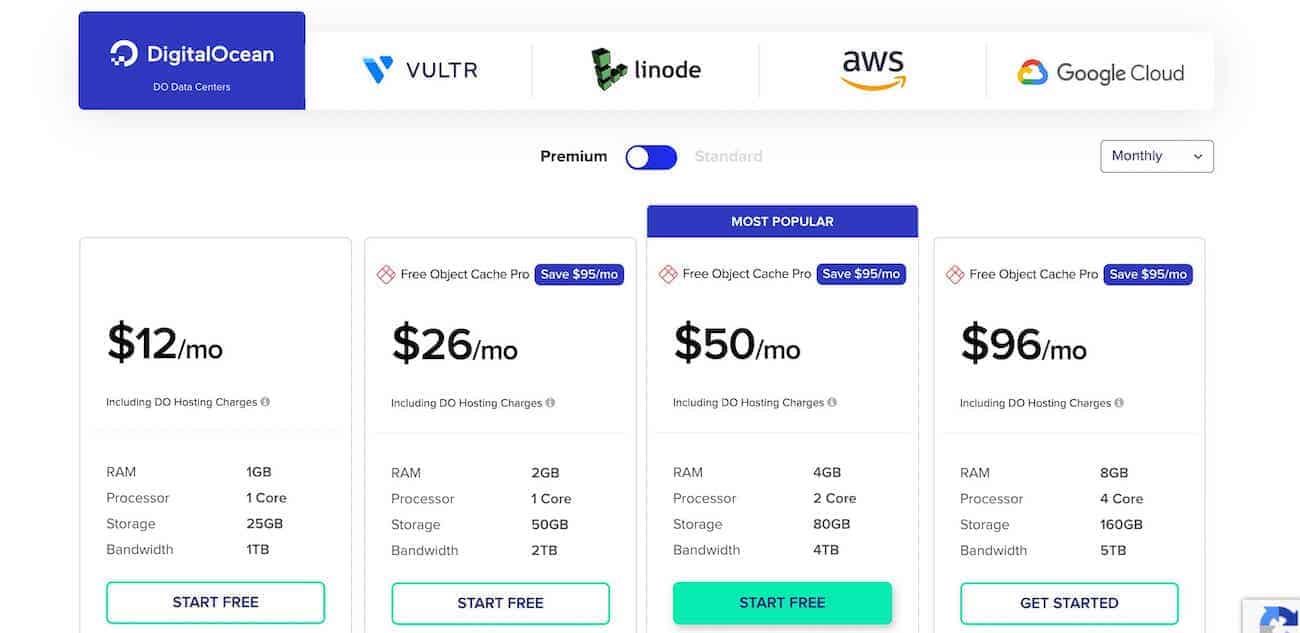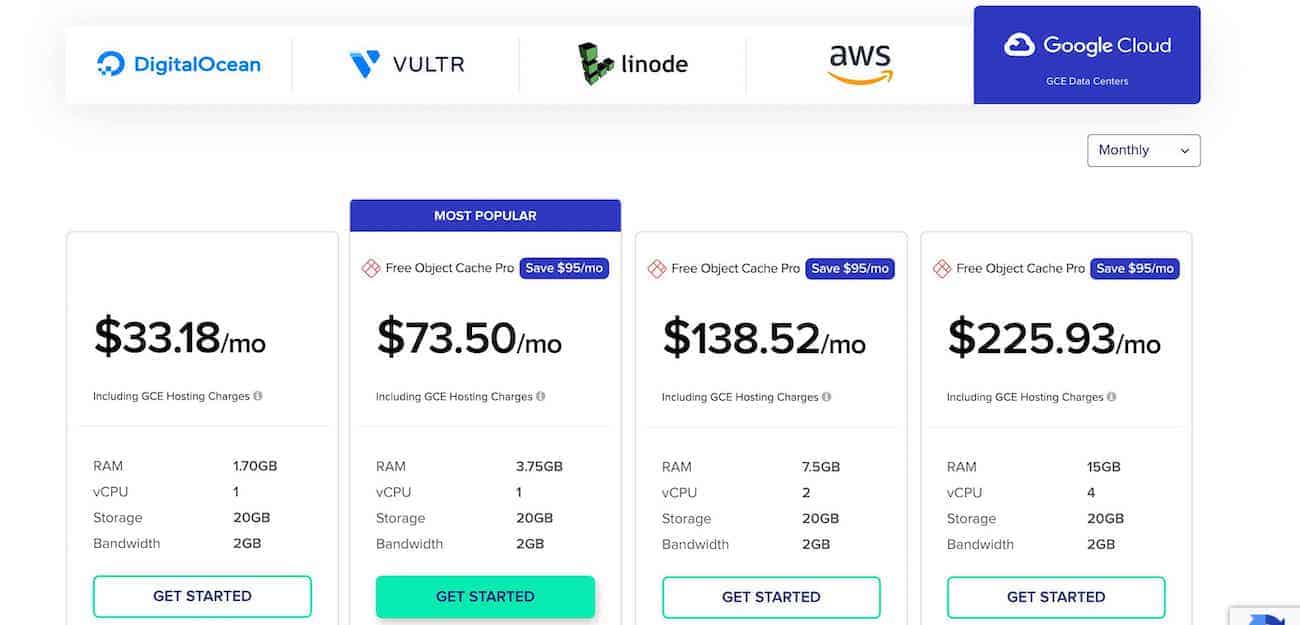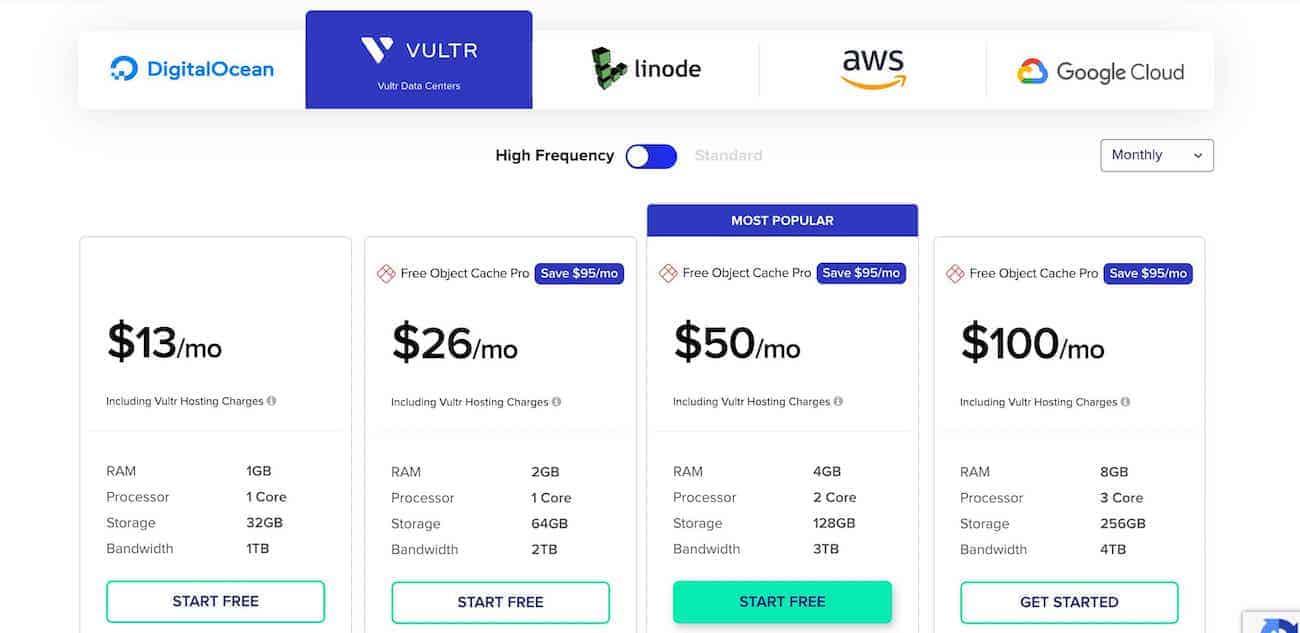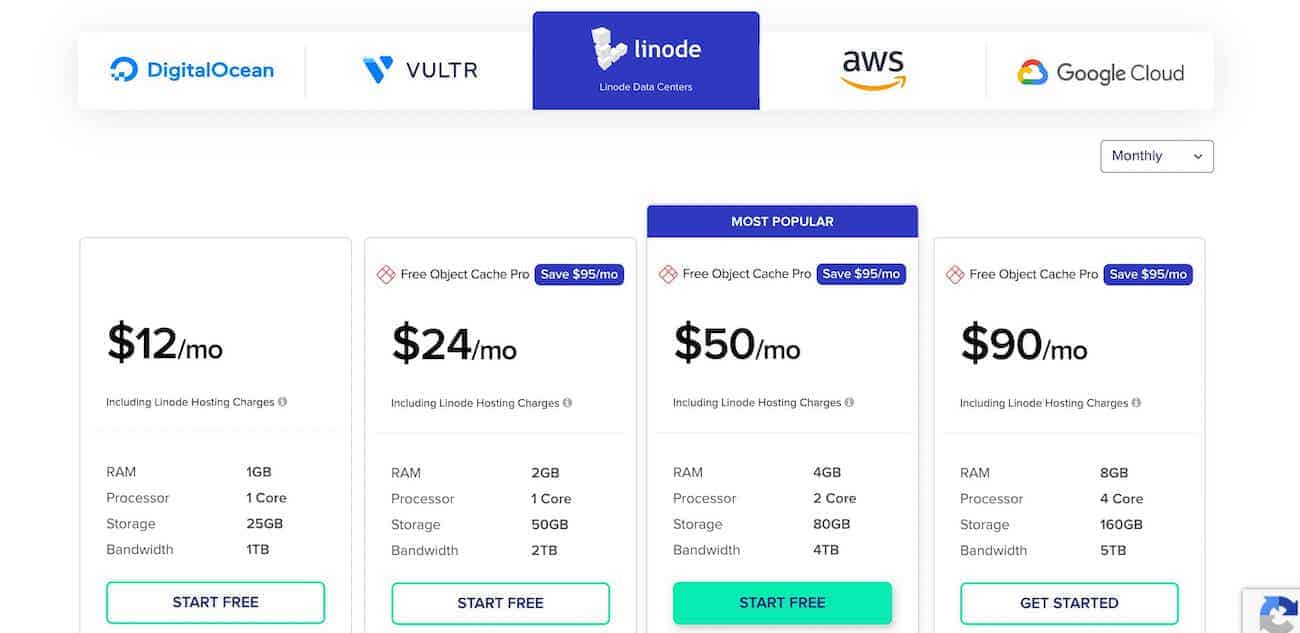 Amazon Web Services (AWS) Pricing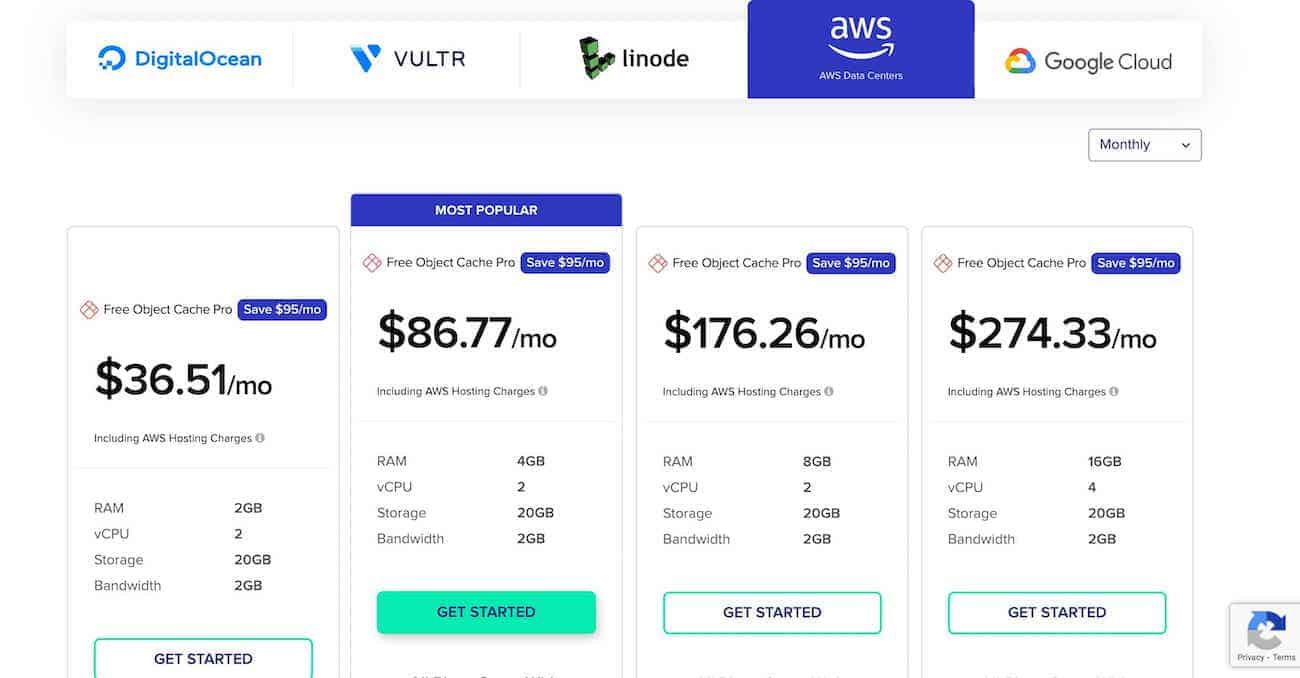 Here we'll look into the key features included with all managed cloud hosting plans of Cloudways:
Cloudflare CDN – a CDN network to improve your website's performance and security
24/7/365 customer support, accessible via live chat
Free SSL certification
Free website migration
Unlimited app installation
Team management and collaboration features
Dedicated security firewalls
Automated data backups to protect your site's data
Staging environments
Auto-healing server technologies with regular security patching
SSH and SFTP access
Here we'll answer some of the most frequently asked questions regarding Cloudways.
Is Cloudways good for WordPress?
Cloudways is one of the best cloud hosting solutions for WordPress. It offers WordPress-optimized servers to ensure your WordPress site loads fast. Moreover, you also get a one-click WordPress installation at Cloudways to set up your WordPress website right away.
Is Cloudways a VPS?
Cloudways offers cloud hosting services, which are based on VPS servers. Cloudways essentially provides platform-as-a-service solutions as it lets you rent servers from different cloud providers. However, the team of Cloudways configures and manages your server for you to save you time and hassle.
Is Cloudways easy to use?
Cloudways is quite simple and user-friendly. There's a simple sign-up process, followed by easy installation of your desired CMS platform, be it WordPress, Magneto, or any other. Moreover, the dashboard of Cloudways is also pretty user-friendly as it offers a graphical interface with easy navigation.
How do you pay for Cloudways?
Cloudways accepts various payment methods including debit and credit cards, including Visa, Mastercard, and AmericanExpress. Moreover, people using an upgraded account can also pay via PayPal.
What makes Cloudways different from other web hosting companies?
Unlike other web hosting providers, Cloudways uses the infrastructure of other cloud providers and manages your server. This way, you can get a cloud server from a trustable provider like Google Cloud but have Cloudways configure and manage it for you.
Can I get assistance moving my site to Cloudways?
Cloudways offers free site migration with all its managed cloud hosting plans, which is great news for website owners looking to switch hosts. So, you get full support from Cloudways if you wish to transfer your website to its servers.
Cloudways is a widely popular managed cloud hosting provider that has been around since 2012. In this guide, we've closely reviewed Cloudways' main advantages and downsides to help you determine if it's a good fit for your needs. We believe it's a decent cloud hosting solution for most users as it boasts a decent price value, amazing performance, and reliable server uptime.