HostGator Review 2022 – Worth It or a Nightmare?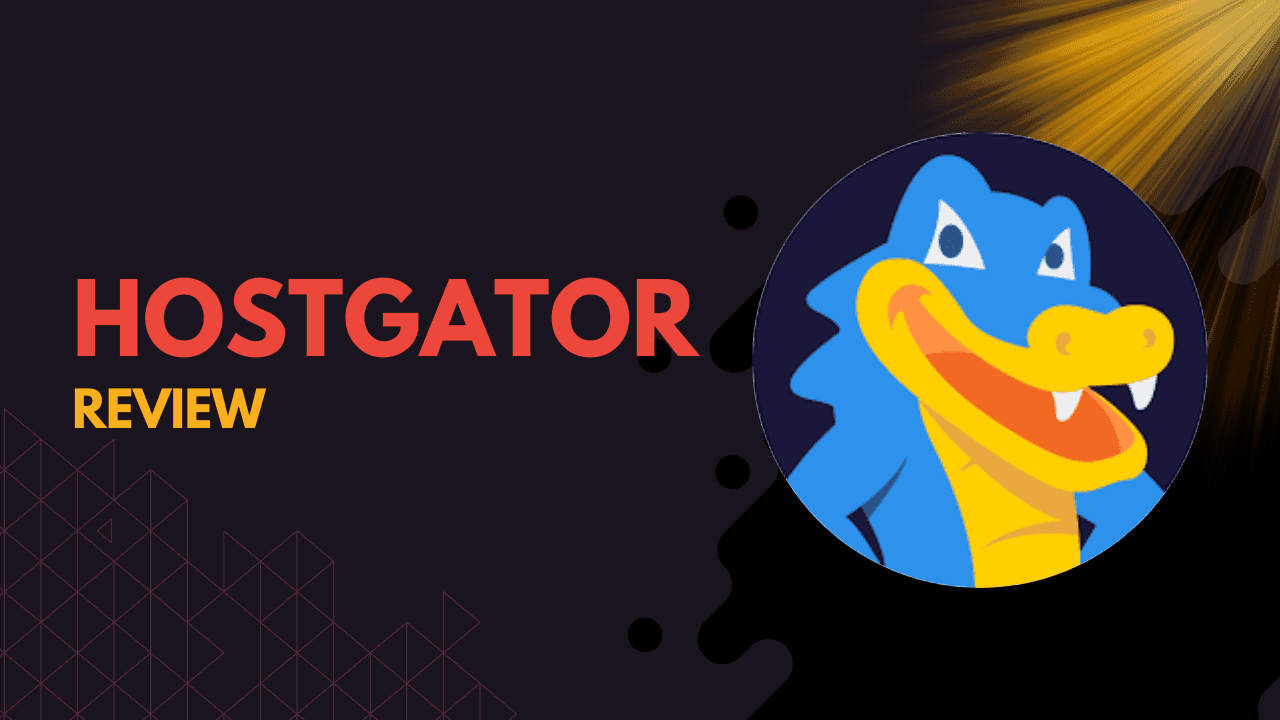 Reg. Price $6.68 – Get 64% Off!
When someone asks for the most popular web hosting provider, HostGator is among the first few companies that come to mind. The provider hosts over 2 million websites and offers competitive pricing to make web hosting within reach of most people.
But is HostGator the best hosting service on the market? Most importantly, is it the right hosting for your requirements? That we'll find out today in this guide.
We'll start off by having an overview of HostGator and determining its performance in crucial aspects like server speed, reliability, value for money, and so on. In the end, we'll look at HostGator's various hosting plans and answers to its frequently asked questions.Let's jump to the more detail-oriented parts of our HostGator review.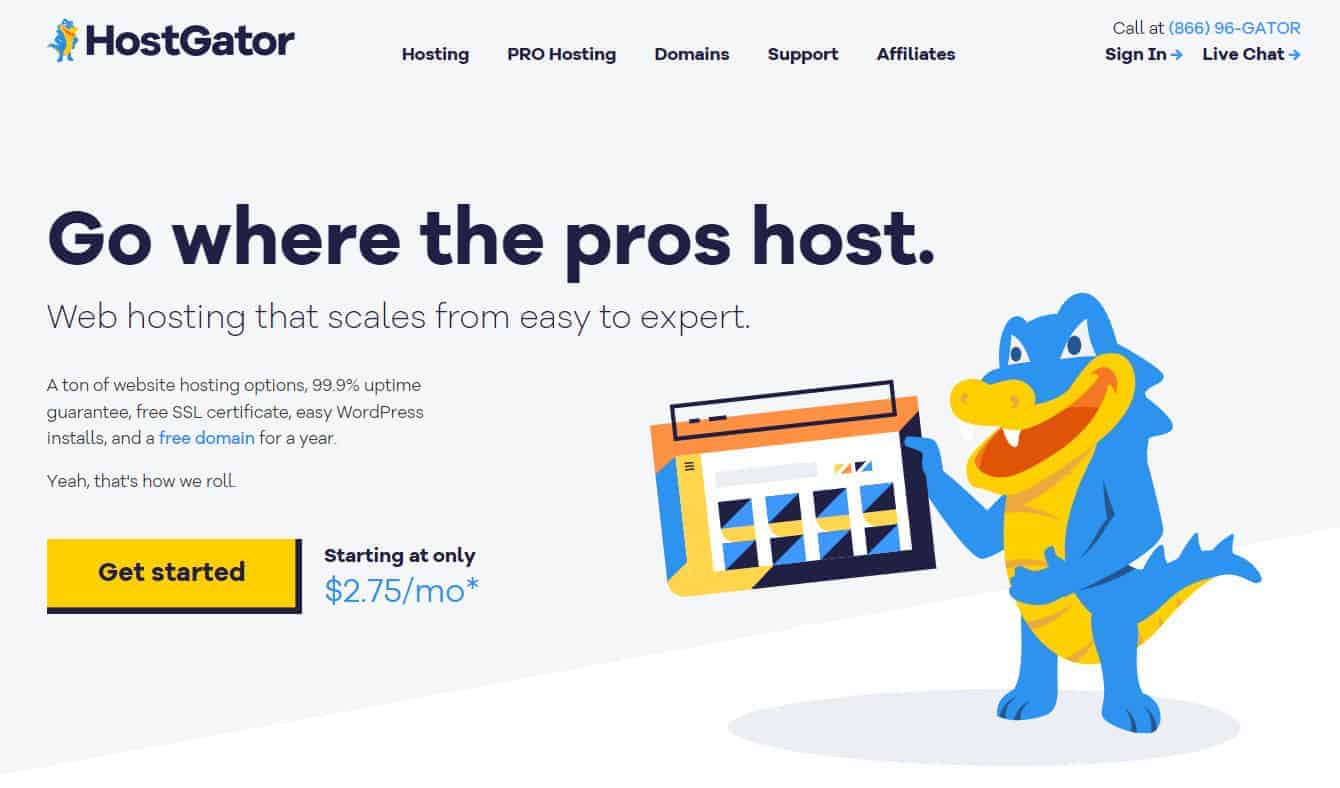 HostGator is a trusted web hosting service that came into being back in 2002 and has been on a bumpy ride ever since. The availability of powerful features at an affordable price is its standout value, making it a popular web hosting option for most users, particularly beginners.
The highlights of HostGator's basic hosting plans include the added bonuses like a free domain name, SSL certification, and free access to cPanel. HostGator's unlimited policy is yet another significant addition, consisting of unmetered bandwidth, storage, and professional email accounts.
As a developed hosting service, HostGator offers various hosting plans, including shared hosting, VPS hosting, WordPress hosting, and dedicated servers. If you're wondering, shared hosting is an optimal solution for beginners, and you can always upgrade to higher plans as your project (website or app) grows.
That said, let's dive into HostGator's top advantages and drawbacks to help you find out if HostGator is the right hosting option for you.
Below are the main benefits of HostGator.
Whether you're launching an eCommerce shop, a blog, or a personal portfolio website, ensuring round-the-clock availability is crucial. For instance, if your website is unavailable at the moment a user visits it, it's likely you'll lose a potential customer. Not just that but search engines (like Google) can penalize websites that are often unavailable because of an IT issue at the end of the hosting provider.
As an established hosting service, HostGator has managed to achieve a satisfactory 99.9% average server uptime – so the websites hosted on HostGator are available 24/7.

The provider also offers an uptime guarantee to get you peace of mind.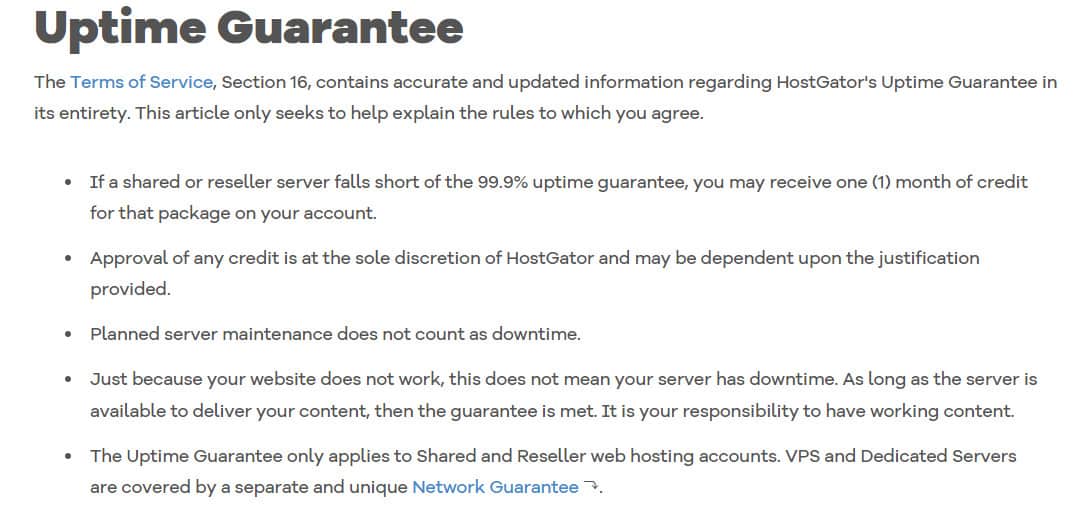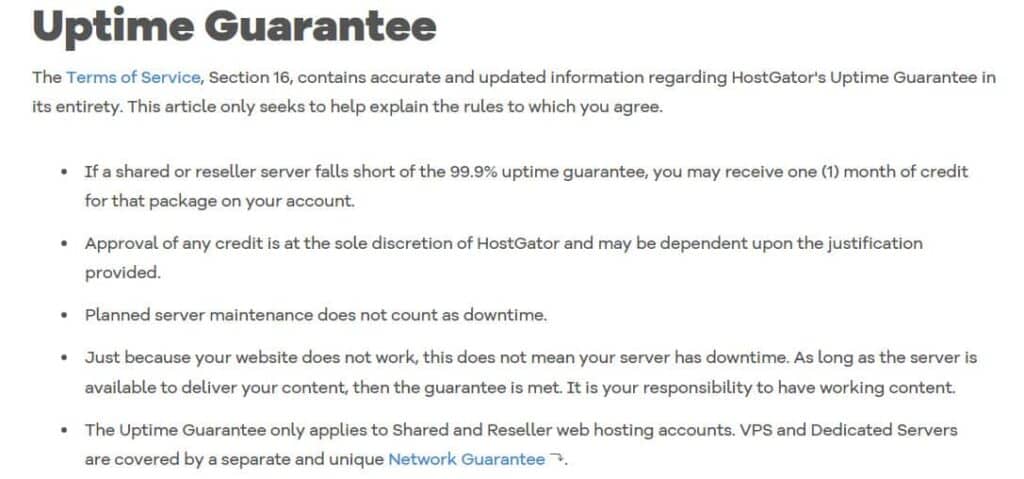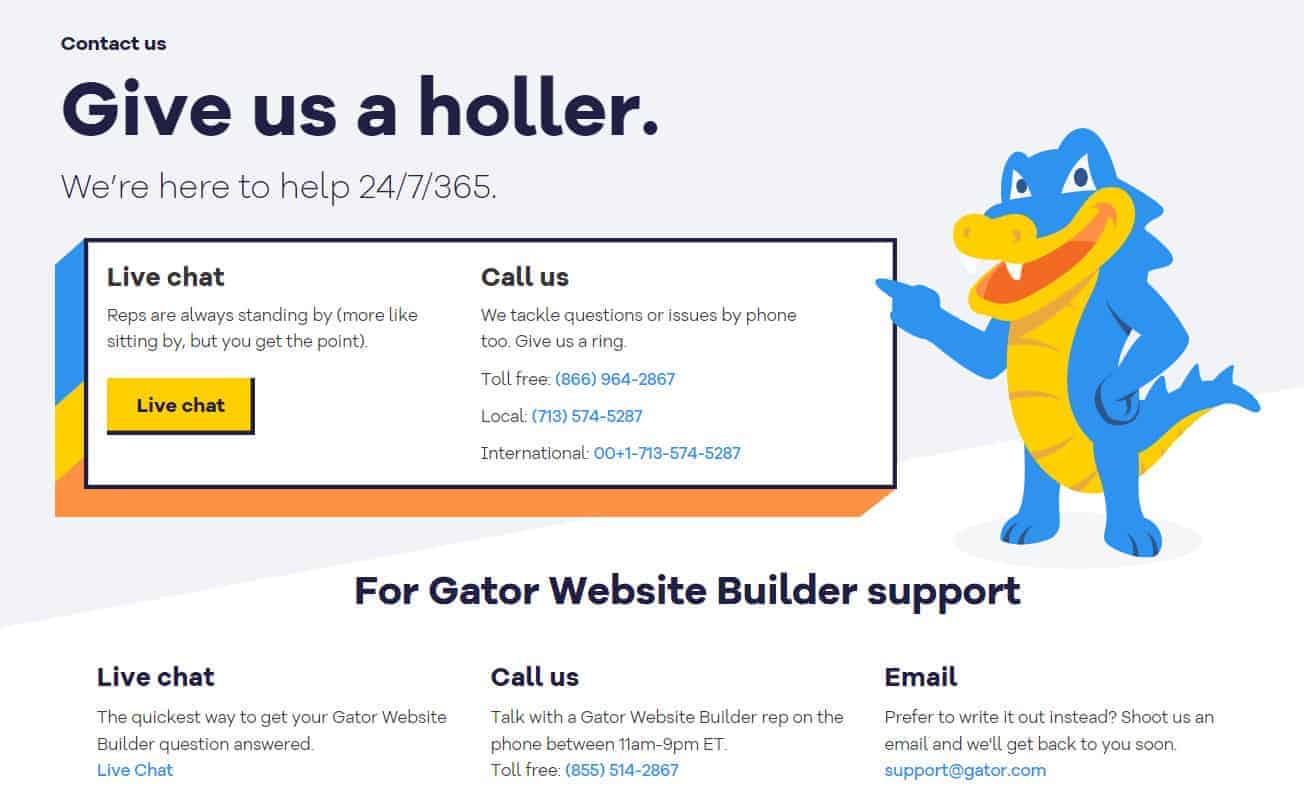 HostGator's customer support is not the best, but for the price you pay, it's quite impressive. The support is available through various channels, including email, phone, live chat, and Twitter. So contacting a HostGator representative is quite easy.
The response rate of HostGator's customer support was good in our experience. It took 5-10 minutes for a support agent to reply through live chat support. However, users have reported long delays in replies of up to 30 minutes.
But overall, HostGator's customer support is satisfactory and makes sure users are not suffering from any issues. The availability of a definitive blog and knowledgebase is yet another significant addition – so you can quickly search for the solution to any issue you're facing.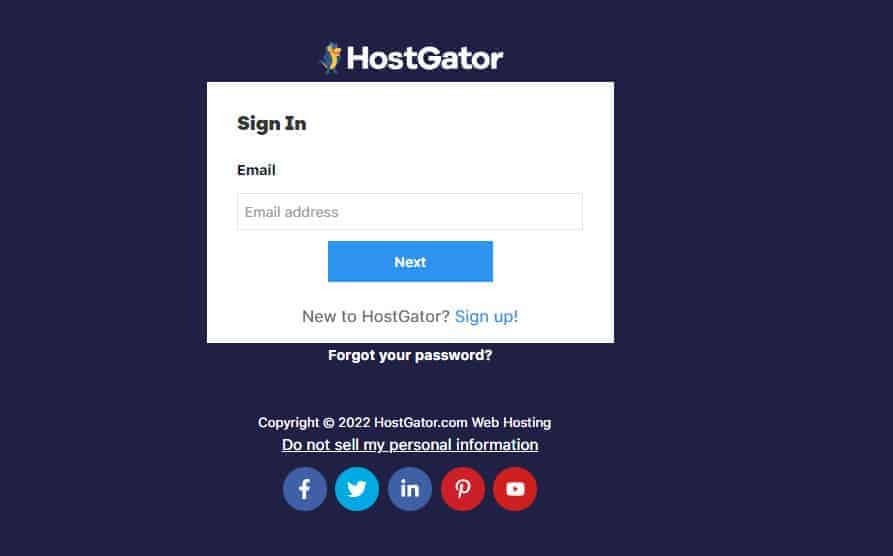 Since HostGator targets beginners alongside web experts, user-friendliness is among its standout values. That's why the company offers a quick hosting setup followed by easy installation of the apps you may need (like WordPress). Installing an SSL certification is also as easy as a click of a button.
Moreover, all HostGator's plans are backed by the Gator site builder that lets you create a professional website without knowing how to code. If you're wondering, it's a drag-and-drop builder that allows relocating elements to design a website. The availability of pre-built templates that you can customize further is also a wonderful feature.
When it comes to the control panel, HostGator is backed by the industry-standard cPanel. It's fast, powerful and well-optimized for regular web hosting management tasks. The best part is that you don't have to be familiar with technical terms or procedures to use it.
Trusted By 2 Million Websites
You see, we consumers are looking for a trustable brand when purchasing anything – that's why a lot of people get away with established brands like iPhone and Samsung when looking for a smartphone. Speaking of HostGator, it's among the most authoritative web hosting companies and powers over 2 million websites on the internet.
Not only that but HostGator is the top choice of many trustable review organizations such as PCMag. Moreover, HostGator's TrustPilot rating falls close to 4 stars out of 5 (based on 1,939 customer reviews), which is great for web hosting providers. Simply put, HostGator is a trusted name in the web hosting world.
Month-to-Month Hosting Plans
Many providers like Bluehost lack month-to-month plans or charge a hefty setup fee with a month-to-month subscription. Whereas, HostGator offers monthly subscriptions with all its hosting packages. Speaking of the starter plan, it costs $10.95/mo when you choose a 1-month hosting plan. However, the access to premium bonuses like a free domain name is ceased.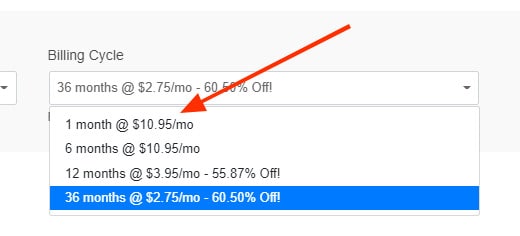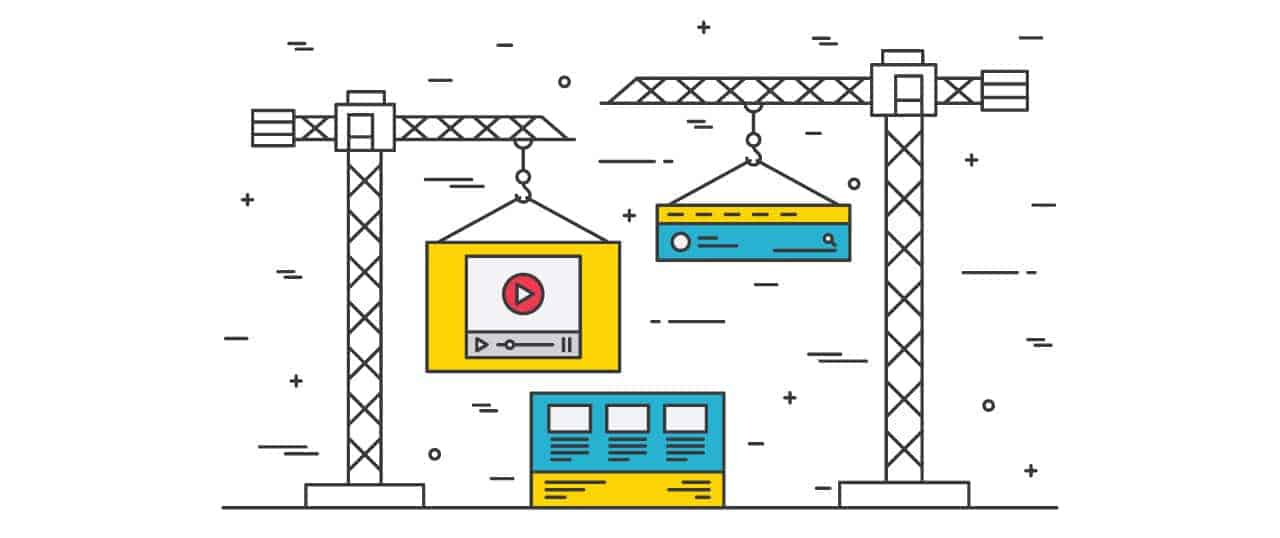 As mentioned before, HostGator packs a free website builder with its hosting packages, called the Gator website builder. It's an intuitive drag-and-drop builder that makes it easy for beginners and not-so-tech-savvy users to build their websites from the ground up. Though the free version comes with some limitations, you might be able to design a professional website effortlessly.
HostGator offers huge discounts with its hosting plans. For instance, the discounted price of the starter shared hosting plan is $2.75/mo with $10.95/mo being the regular price. Similarly, the provider offers discounts on many of its other services as well, such as domain names, a website builder, and SEO tools.
Lots of Extras & the Unlimited Policy
The hosting packages at HostGator are equipped with various advanced features that particularly include the free domain name and SSL certification. Alongside that, the access to industry-standard cPanel and a drag-and-drop website builder for free is also a significant addition. Moreover, all plans at HostGator come with a one-click WordPress installation to allow for an instant setup of your website.
Another standout benefit of HostGator is its unlimited policy that applies to storage size, bandwidth, and professional email accounts. In other words, all plans of HostGator offer these resources without any tight limit. Moreover, the option to host unlimited websites is also a powerful feature of HostGator but that's limited to its higher plans only.
Above-Average Money-Back Guarantee
All top hosting services like SiteGround, Hostinger, and Bluehost offer an industry-standard 30-day money-back guarantee. But HostGator stands out by throwing in an above-average 45-day return policy. So you get 15 days extra to evaluate HostGator's hosting services and find out if they fit your requirements.
However, note that this refund policy only applies to the hosting services you purchase. The additional features like domain name, SEO tools, and other plugins won't be refunded.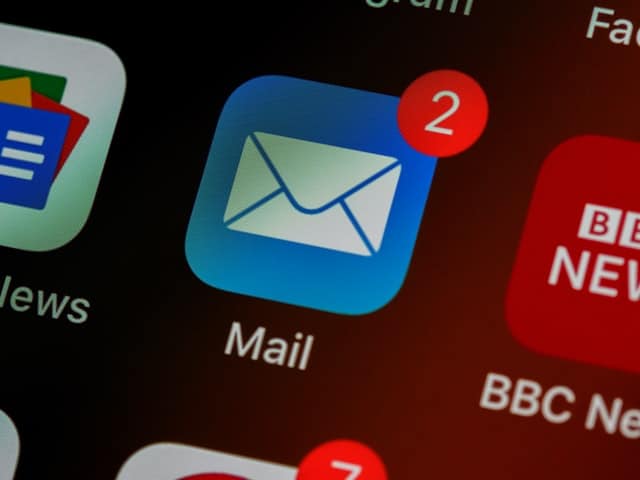 Whether you're launching a business website or a personal portfolio site, a professional email is essential for your authenticity and trustability. While many providers like DreamHost charge extra for email accounts, HostGator throws them in for free.
The best part is that all HostGator's packages pack unlimited professional email accounts. You also get access to webmail, SpamAssasian (an anti-spam tool), and other advanced features like autoresponders.
Here we'll look at the main downsides of HostGator.
Though HostGator's plans are equipped with wonderful discounts, these are just the initial prices. So, when the contract ends, you're required to pay at the regular price which is significantly higher than the initial prices. If you're not sure, this pricing policy is common among all web hosting providers. So, beware of the renewal prices before choosing any hosting service, including HostGator.
Performance Could Be Improved
HostGator's servers are performanced-packed as they offer powerful hardware and top-tier optimization. However, note that HostGator hasn't upgraded to SSD-based storage drives yet. If you're not sure, SSD storage drives are many times faster than traditional HDD drives.
Since the read & write speeds of HostGator's servers are not as fast as SSD-based hosting services like Bluehost, its performance is not the best. So, if you want your website to load blazing-fast without any delay, HostGator may not be that effective.
Additional Backup Restoration Fee
We all know that backing up data is important to prevent data loss during emergencies. Thankfully, HostGator offers a data backup service, allowing you to back up all your important data to secure cloud servers effortlessly. However, restoring data in case of a data loss situation is not that convenient as it requires a $25 fee.
HostGator runs off only 2 data centers worldwide, based in Provo, Utah, and Houston, Texas. Since HostGator's data centers are not widely spread, its performance in far-off places may not be that effective – especially if your target audience is placed in a far-off country. What's worse is HostGator doesn't even allow you to choose between these 2 server locations.
But to make up for limited server locations, HostGator offers free Cloudflare integration. The Cloudflare network covers over 23 data center locations worldwide and spreads your website's content across those locations to provide instant access to nearby users. These locations are in North America, Europe, Asia, and Australia.
HostGator Plans and Pricing
HostGator offers various hosting packages to suit the business needs of all types. Here is an overview of its main hosting plans.
Shared hosting is the most basic type of hosting service in which a server is shared among various users. In other words, when you buy shared hosting, your website is hosted on a server where many other sites are being hosted as well. The resources of the server are shared which leads to distributed (and sometimes compromised) performance.
However, shared hosting is perfect for beginners looking to create their first-ever website. It's also the most effective solution for people whose websites have relatively low traffic and are looking to migrate their site to a better hosting solution.
HostGator's shared plans start from $2.75/mo and go all the way up to $5.25/mo, Here's an overview of them:
The Hatchling plan costs $2.75/mo and limits you to hosting a single website.
The Baby plan starts from $3.50/mo and offers unlimited websites.
The Business plan costs $5.25/mo and throws in various advanced features such as free dedicated IP, SEO tools, positive SSL, and Cloudflare integration.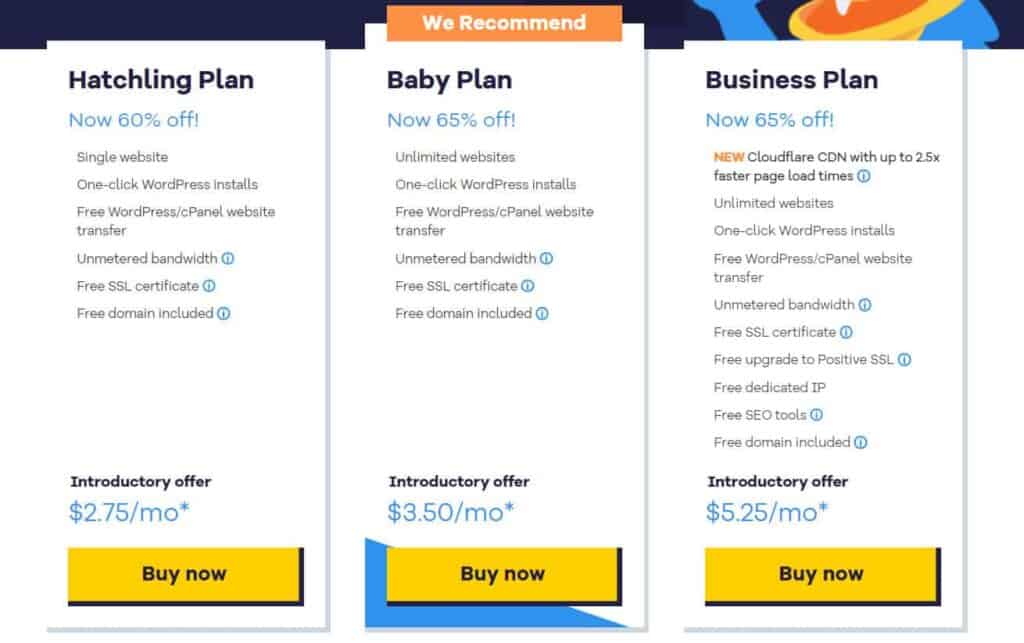 Managed WordPress Hosting
Being the largest CMS platform on the internet, WordPress is popular among users for creating websites. If you're a WordPress user who manages a network of WordPress sites, investing in managed WordPress hosting is a good way to go.
HostGator's WordPress plans come with a free SSL certificate and domain name while offering pre-installed WordPress and a simplified control panel designed to manage multiple websites from a single place. The details of HostGator's managed WordPress plans are as follows:
The Starter plan costs $5.95/mo and offers a single website while providing support for up to 100k monthly visitors. You also get 1 GB storage for data backups.
The Standard plan starts from $7.95/mo and is suitable for managing two WordPress websites. It supports 200k monthly visitors and packs 2 GB of backup storage.
The Business plan costs $9.95/mo and allows up to 3 websites. It provides support for up to 500k visits per month with a 3 GB data backup storage.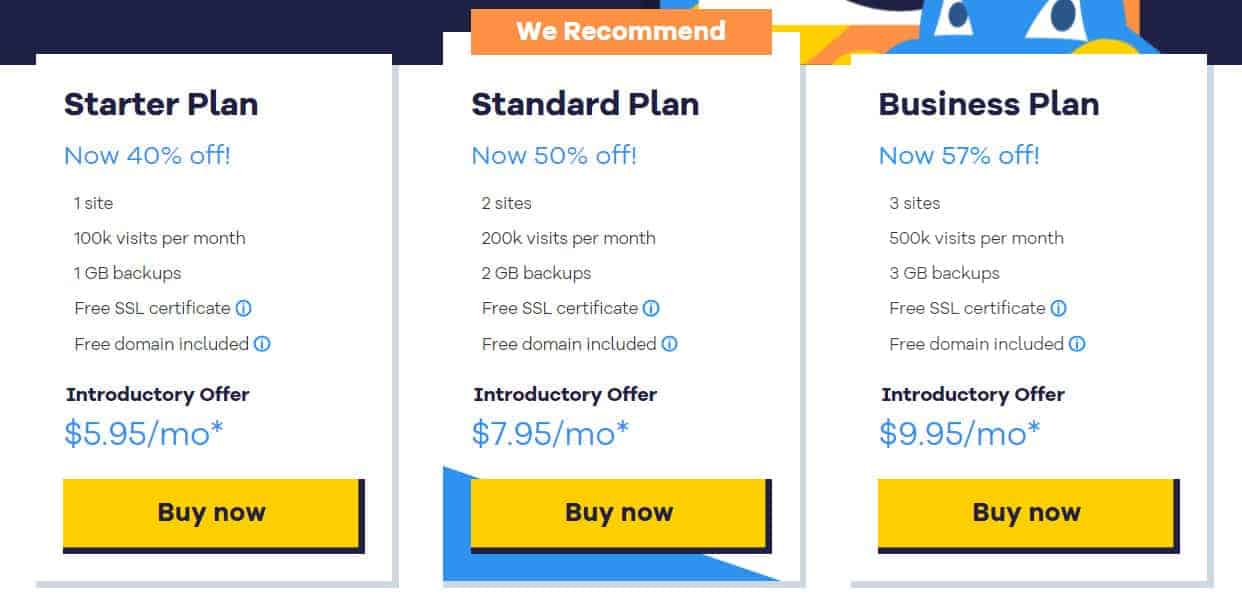 VPS hosting is a stepping stone between shared hosting and dedicated server hosting. In VPS hosting, a server is still shared among multiple users but because of virtual instances, each user is able to enjoy dedicated server resources.
You won't need VPS hosting unless you're hosting a big website or app that requires a lot of hardware juice. VPS hosting may also be effective if you're looking for complete server control. That said, each VPS server at HostGator is equipped with full root access and one-click scalability. Here are the details of its VPS packages:
The Snappy 2000 starts from $23.95/mo and offers 2GB RAM, a 2-core CPU, and 120 GB SSD storage.
The Snappy 4000 starts from $34.95/mo and packs 4GB RAM, a 2-core CPU, and 165 GB SSD storage.
The Snappy 8000 costs $59.95/mo and throws in 8GB RAM, a 4-core CPU, and 240 GB SSD storage.
Note: Each plan offers unmetered bandwidth, weekly backups, and a full suite of tools like site templates, script installer, and some website development tools.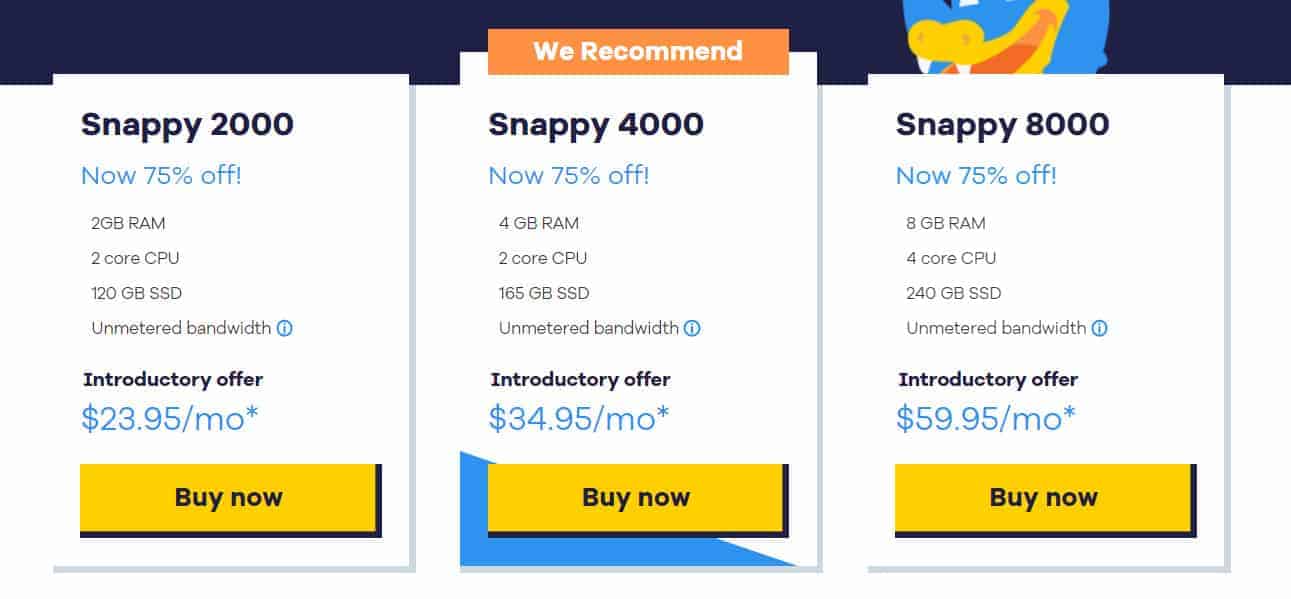 Here are the answers to popular questions regarding HostGator.
Is HostGator good for WordPress?
HostGator is an amazing option for WordPress hosting. Its shared hosting plans offer one-click WordPress installation with WordPress optimized servers. With features like a free domain name, SSL certification, and unlimited storage & bandwidth, HostGator tends to be a perfect WordPress hosting service.
Where are HostGator servers located?
HostGator's servers are located in Provo, Utah, and Houston, Texas. Unlike some other hosting services, the data center locations of HostGator are not widely spread worldwide. However, its higher plans come with CDN integration which makes copies of your website's data and spreads it across various locations. The visitors are served from the nearest server location which results in a blazing-fast loading performance and response time.
Are Bluehost and HostGator the same company?
Bluehost and HostGator are different web hosting solutions but they're both owned by Endurance International Group (EIG). EIG owns various other hosting and domain registration services as well, including iPage, Verio, Domain.com, iPower, and so on.Is Bluehost good for blogs?
Bluehost is perfect for blogs as most bloggers choose WordPress and Bluehost is highly compatible with WordPress. Moreover, with 100+ AI-generated themes available, you can select one for your blog in no time to give it a professional look and SEO-friendly construction.
How to Install WordPress on HostGator?
Installing WordPress on HostGator is easy. First of all, log into your HostGator dashboard and open cPanel. Now, look for the WordPress installation option and click Activate. That's it, the pre-installed WordPress will be activated within minutes and your website will be ready for customization with WordPress.
How many email accounts does HostGator offer?
If you're just starting out, the shared hosting plan of HostGator is a good way to go. In case you want to host a network of WordPress websites, consider HostGator's managed WordPress plans. The VPS servers of HostGator are a good way to go if you're looking for full server control without paying through the nose.
Which HostGator plan do I need?
If you're just starting out, the shared hosting plan of HostGator is a good way to go. In case you want to host a network of WordPress websites, consider HostGator's managed WordPress plans. The VPS servers of HostGator are a good way to go if you're looking for full server control without paying through the nose.
How to host multiple websites on HostGator?
Hosting multiple websites on HostGator is only possible by choosing one of the higher shared hosting or managed WordPress hosting plans. It's because the basic plans of both these packages restrict websites to a single. When your plan will support multiple websites, you'll be able to add more sites to your hosting account.
How to change the PHP version on HostGator using cPanel?
Follow the steps below to change the PHP version on HostGator with cPanel:
Step 1: Open your HostGator dashboard and navigate to cPanel.
Step 2: Click the PHP selector icon in the software section.
Step 3: Navigate to the folder of the website whose PHP code you want to change.
Step 4: Choose the PHP version from the dropdown menu and select Upgrade.
Is HostGator good for blogs?
HostGator is perfect for blogging as it offers all the essential features like a domain name, quick WordPress installation, and SSL certification for free. Most importantly, you can customize your blog's design using a free drag-and-drop website builder, without having to hire a web developer.
Bottomline: Is HostGator Worth It?
We all know that HostGator is among the most popular hosting services on the market. However, it has certain limitations like lack of SSD storage with shared plans, limited data center locations, and additional data restoration fees.
But if you compare the drawbacks to the key benefits like top-tier price value, affordability, reliable servers, and free drag-and-drop builder, you'll see that the benefits easily outrun the disadvantages.
Therefore, HostGator is a perfect web hosting solution for most people, particularly those who are starting out with a new website.
Disclosure of earnings: we use affiliate links in some of the hosting services that appear on this page. This helps our site cover the costs of the site, Thanks for your support. 
Read more