Namecheap Review 2022 – Is it Worth Your Money?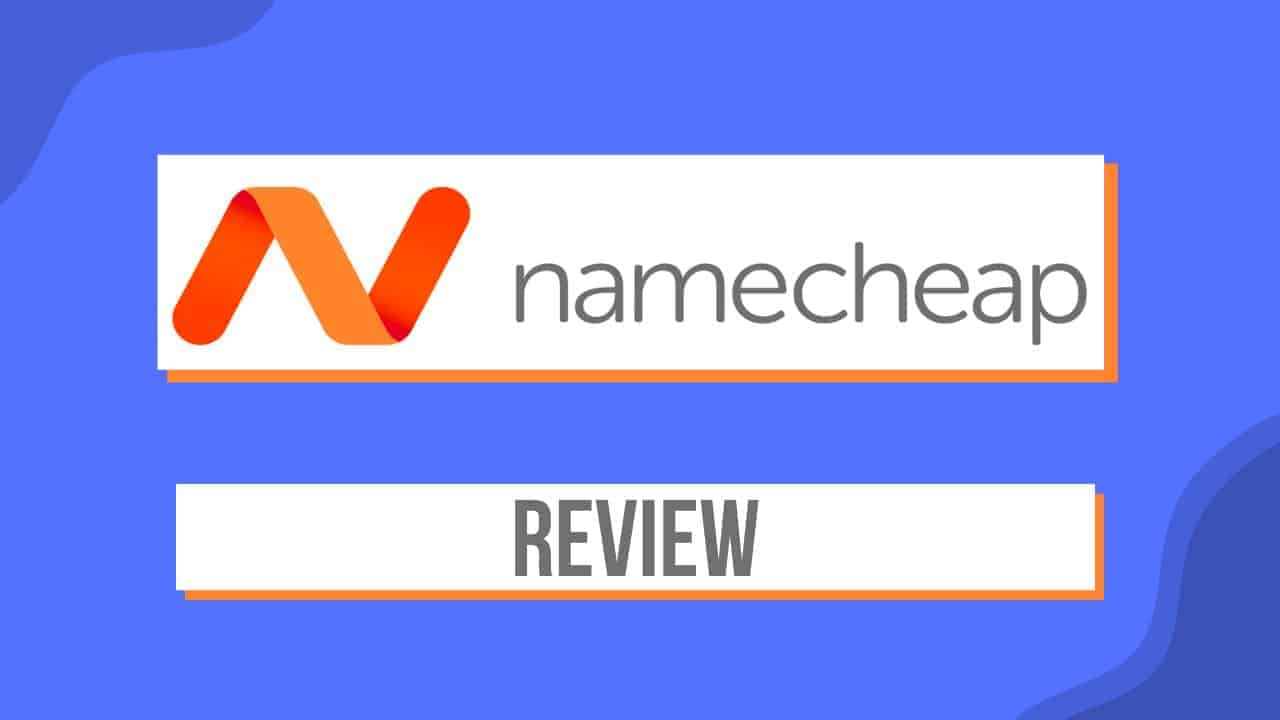 Reg. Price $4.44 – Get 58% Off!
Namecheap is primarily known for its domain registration services but it also offers affordable web hosting services. The company came out in 2000 and offers quality services to more than 800,000 customers to date. Some of its key features are fast page-loading speeds and extensive knowledge base.
Although Namecheap has a number of upsides, it doesn't come without downsides. For instance, it doesn't perform well in terms of phone support and widespread data center locations. In this Namecheap review, we'll go through Namecheap's features in detail and shed light on its performance, security, and reliability. With that said, let's dive in.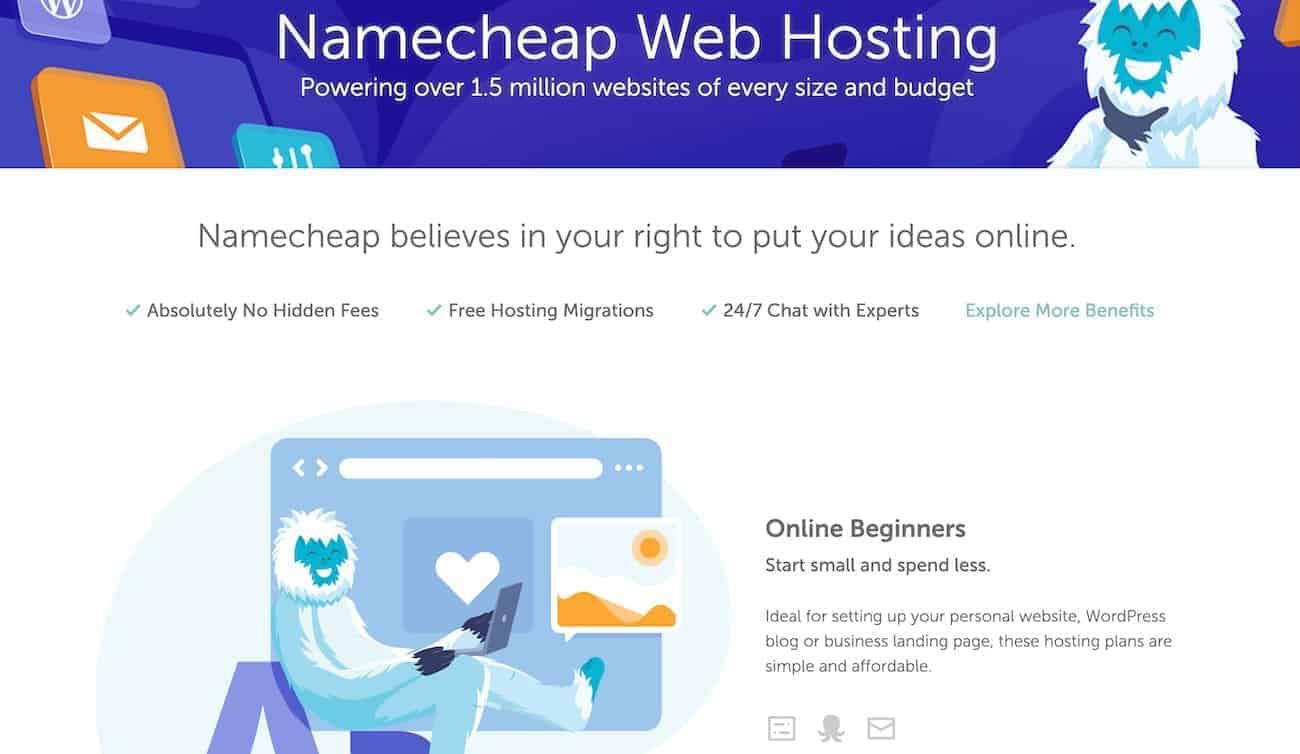 Namecheap is a leading ICANN-accredited domain name registrar and web hosting company that hosts over 15 million domains worldwide. This web hosting provider is committed to providing the best possible prices for domains and hosting services without hidden charges.
Namecheap offers affordable domain names, reliable web hosting services, secure SSL certificates, and much more. In addition to these, Namecheap also offers free WHOIS privacy protection on all domains registered through their platform.
Overall, Namecheap is an excellent choice for those looking for a reliable web hosting provider. They offer competitive pricing on domain names and hosting services, as well as a wide range of other features that make them an attractive option for both individuals and businesses.
Here we'll look at the top benefits of Namecheap.
Uptime is the percentage of time that a website is accessible online. A reliable uptime is crucial for a site to be successful because the more time a site is offline, the more customers it loses.
Namecheap realizes the importance of a site's online presence. Therefore, it offers a 100% uptime guarantee, so you can rest assured that your website will be up and running most of the time. Namecheap has a history of solid uptime and has maintained almost 100% uptime for a while. The best thing about Namecheap's uptime guarantee is that they pay you in case of less than perfect uptime.
A personalized domain allows you to have a professional-looking email address that uses your business name rather than a generic email address. This helps you appear more credible and trustworthy to potential customers and partners.
Additionally, a domain can give your business its own website, which can help you promote your brand and build customer trust. Since owning a domain is inevitable for a site to succeed online, getting a free domain is a great perk.
Namecheap offers a free domain name when you set up a hosting account with this provider. Since domains are Namecheap's specialty, it only makes sense to get one for free. However, it is free for the first year, and you have to renew it by paying for it.
One of the most critical factors for a successful website is loading speed because site speed and user satisfaction are correlated. According to a study conducted by Google, the chances of a user bouncing off your site increases over 100% if your site's page-loading speed is more than 6 seconds.
Namecheap understands this and offers fast loading times on all hosting plans. It has been maintaining an average page speed of 329 ms for a while. This is due to their use of solid-state drives (SSDs), which are much faster than traditional hard drives.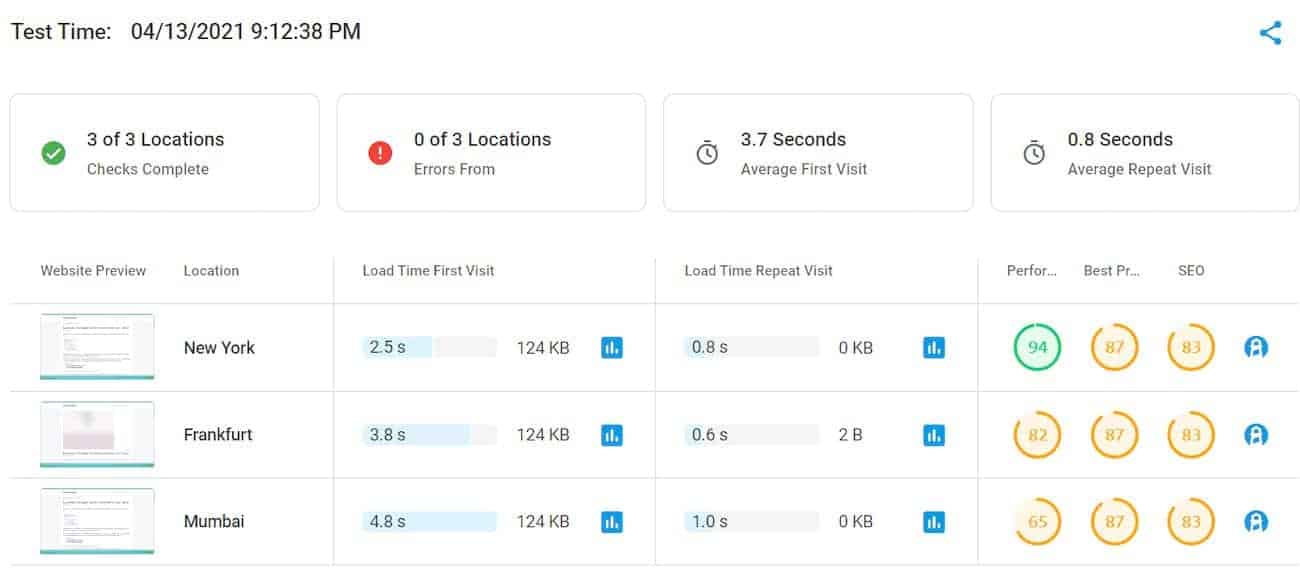 A user-friendly interface is vital for a hosting service because it makes it easy for users to navigate the site and find the information they need. A well-designed interface will also help keep users engaged with the site and encourage them to return. Moreover, a well-designed interface will be responsive to user feedback and able to adapt to changing user needs.
Namecheap's hosting plans come with a user-friendly control panel that makes it easy to manage your account. Even if you're new to web hosting, you should be able to figure out how to use its traditional cPanel without any problems.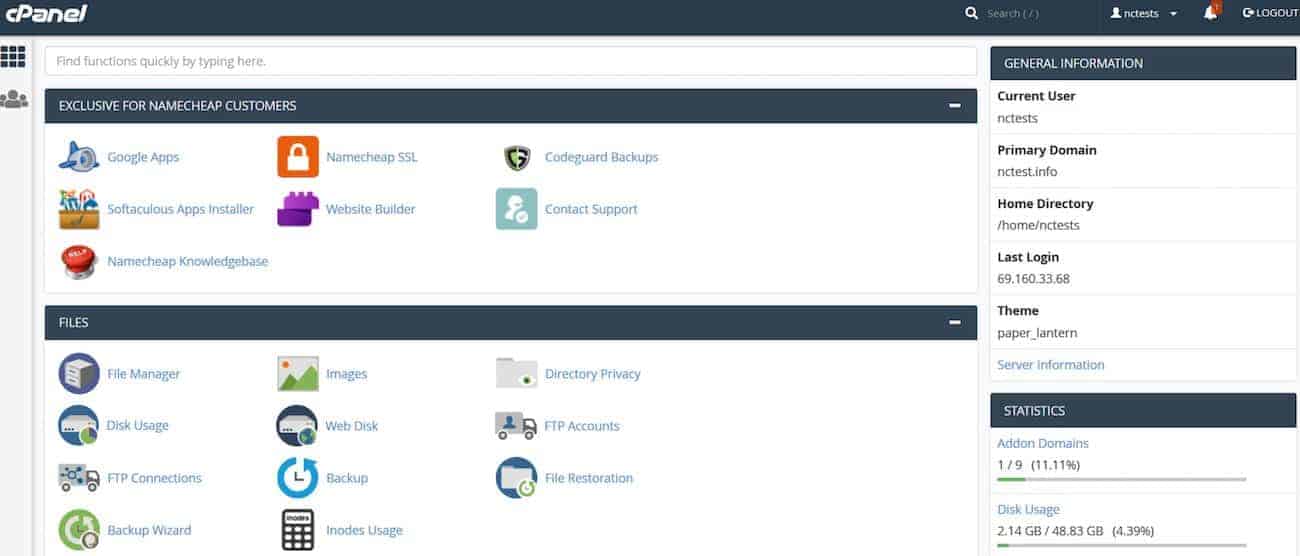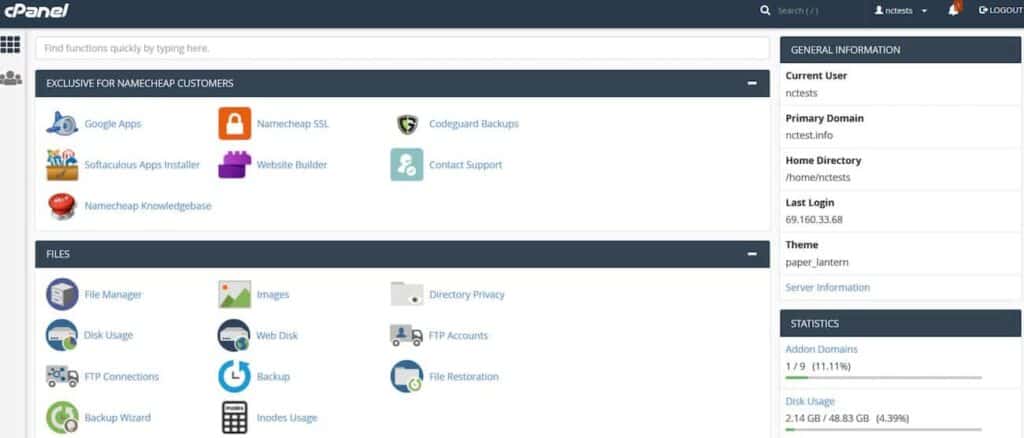 Backups can ensure your data is safe and secure, and your websites will remain online even if there is an issue with the primary server. Additionally, backups can help you recover from cyberattacks or other security threats. They can also provide a way to test new software or changes to your system without impacting live sites.
Namecheap offers free automatic backups, ensuring your peace of mind. It means your website's data will be backed up daily, so you don't have to worry about losing anything in case of any unforeseen problems.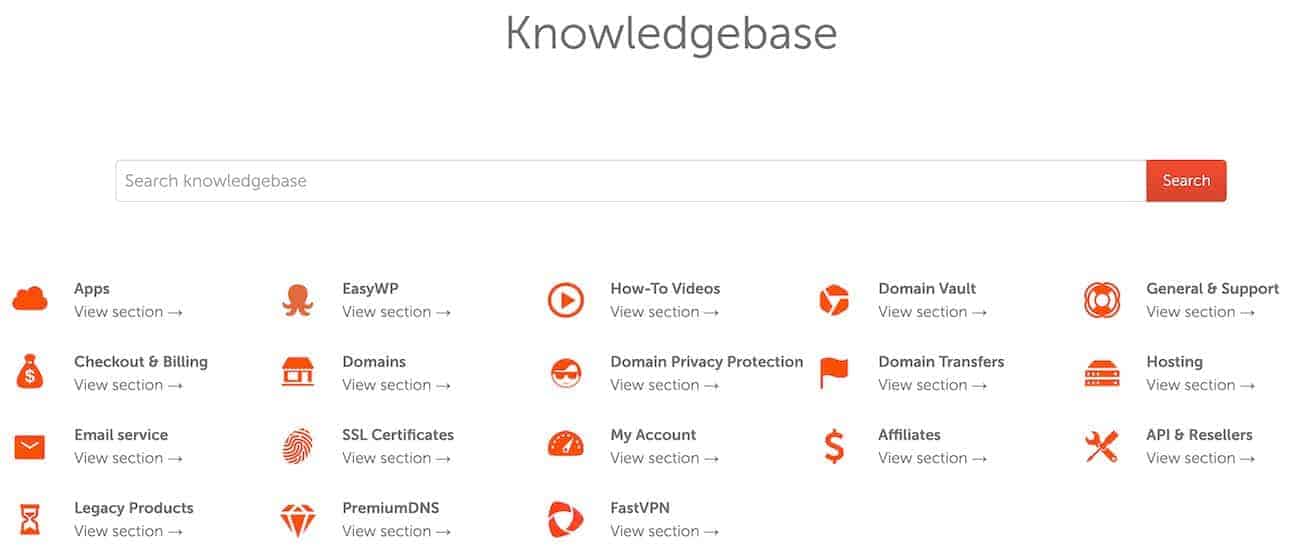 A knowledge base is essential for a hosting service because it allows customers to find answers to their questions quickly and easily. It also helps to reduce support costs by providing a self-service option for customers. Additionally, a knowledge base can help improve customer satisfaction by making it easier for customers to find the information they need.
Namecheap has an excellent knowledge base packed with helpful articles and tutorials. With its knowledge base, Namecheap shares best practices and tips with customers and improves its service quality. This is a great resource if you're new to web hosting and need some guidance on how to set up your website.
Namecheap offers a 30-day money-back guarantee on all hosting plans. It means you can try out their services for a month, and if you're not satisfied, you can get a full refund. If you're skeptical about the quality of their services, this is a risk-free way to check out what they have to offer without making a long-term commitment.
In addition to the free domain, Namecheap also offers a great range of other freebies, including the following.
Free Site Migration
Namecheap offers free site migration with every hosting plan. If you have an existing website, Namecheap will help you move it to its platform for free.
Free Supersonic CDN
Namecheap's Supersonic CDN is a free service with shared hosting plans. It includes custom SSL upload, basic DDoS protection, and a 50 GB/month traffic limit. This plan can help speed up your website by delivering its content from servers located around the world.
Free Website Builder
A free website builder also comes with Namecheap shared hosting. It is a free tool that you can use to create a website without any programming or design experience.
Below are the main disadvantages of Namecheap.
Lack of Widespread Data Centers
Namecheap only has three data centers in the US, UK, and Europe. Its UK data centers are located in Nottingham, while shared, reseller, and VPS servers are in Phoenix, Arizona.
Having a limited number of data centers can affect page loading speeds, especially in far away areas. This is a major downside for Namecheap because some of its competitors have more than 20 data centers worldwide.
Average Security Features
Namecheap offers multiple security features, like free domain privacy and two-factor authentication. It also provides basic DDoS protection and free SSL certificates to keep hackers away from your site.
Although Namecheap offers basic security features, it lacks more robust ones. There is no information about proactive server monitoring or malware scanning and removal on the site. Overall, Namecheap's security features are average compared to other web hosting providers. So, if top-notch security features are your priority, you may want to look at Namecheap alternatives.
Customer Support Could Be Better
As far as Namecheap's customer support is concerned, it offers an incredible knowledge base, covering almost all hosting-related information users could need. Although its customer support is available 24/7, it may need some work.
First of all, there is no option for phone support. It means you cannot get a support representative on call to resolve your issue. Moreover, the ticketing system is also complicated and time-consuming.
So, ultimately, you have to rely on live chat, which may or may not be as helpful as you need. Besides, users have reported that the quality of live chat support isn't always consistent, and it can take a while to get a response from customer service.
With Namecheap, you can get a number of hosting plans, including shared web hosting, WordPress hosting, VPS hosting, and dedicated server hosting. Below, we'll look at the details of these plans.
In shared web hosting, many websites are hosted on the same server. This is a cost-effective solution for small businesses and individuals who want to launch a website without investing in their own server. Shared hosting is often used by beginners or those with low traffic levels.
Key Features
Unmetered Bandwidth
Domain Name and Privacy Protection
Free Automatic SSL Installation
Free Supersonic CDN
Free Website Migration
Free Website Builder
WordPress and cPanel Integration
100+ Apps With 1-Click Install
SSH Access (Jailed)
Personalized Email Service
Unlimited Parked Domains
Regular Backups
100% Uptime
Pricing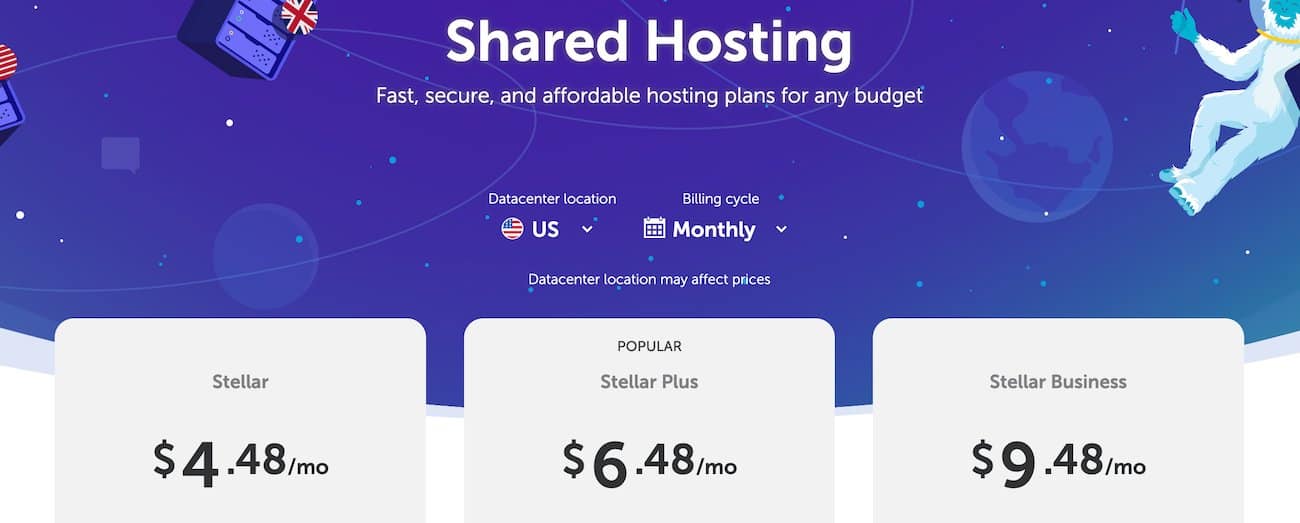 Stellar – $4.48/month. Offers mentioned features + 3 websites + 20 GB SSD + 3 hosted domains + 30 domain-based mailboxes
Stellar Plus – $6.48/month. Offers mentioned features + unlimited websites + unmetered SSD + unlimited hosted domains + unlimited domain-based mailboxes + AutoBackup
Stellar Business – $9.48/month. Offers mentioned features + unlimited websites + 50 GB SSD + unlimited hosted domains + unlimited domain-based mailboxes + AutoBackup + cloud storage
WordPress hosting is designed to be used with the WordPress content management system. It includes features and tools specifically designed to make it easy to set up and manage a WordPress site. This hosting can be an excellent option for those looking to get started with this popular platform for a personal blog or business site.
Key Features
1st Month Free
1 Website
Free Wordpress Migration
Easy Backups
Use Any Domain
Automatic Updates
EasyWP Cache Plugin
SFTP Files Access
99% Uptime
Pricing

EasyWP Starter – $4.88/month. Offers mentioned features + 10 GB SSD storage + 50k visitors/month
EasyWP Turbo – $8.88/month. Offers mentioned features + 50 GB SSD storage + 200k visitors/month + 1.5x more CPU + 1.5x more RAM + free CDN + free SSL
EasyWP Supersonic – $13.88/month. Offers mentioned features + 100 GB SSD storage + 500k visitors/month + 2x more CPU + 2x more RAM + free CDN + free SSL
VPS hosting is a type of web hosting that uses virtual private servers to provide users with more control and flexibility than shared web hosting. Unlike shared web hosting, where all users share the same server and resources, each user on a VPS server has their own dedicated resources and can customize their server environment to meet their specific needs. Despite offering a customizable server environment with increased security, it isn't as expensive as dedicated hosting.
Key Features
Full Root Access Selection
Operating System (OS) Selection
Server Management
Top Security Standards
Free Website Transfer
Regular Backups
Dedicated IP
30-day money-back guarantee
Pricing

Dedicated server hosting is a type of Internet hosting in which the client buys an entire server not shared with anyone else. This is more expensive than other types of web hosting, such as shared hosting, but it gives the client much more control over their website.
A dedicated server usually requires more technical knowledge to set up and maintain. The user typically has root access to the server, allowing them to install any software they want and make any configuration changes they need.
Key Features
Same-Day Setup
Free Migration
99% Uptime
Server Management Options
Enhanced Security
Optimized Network
Datacenter-Powered Reliability
24/7 Customer Support
Server Level Choice
Pricing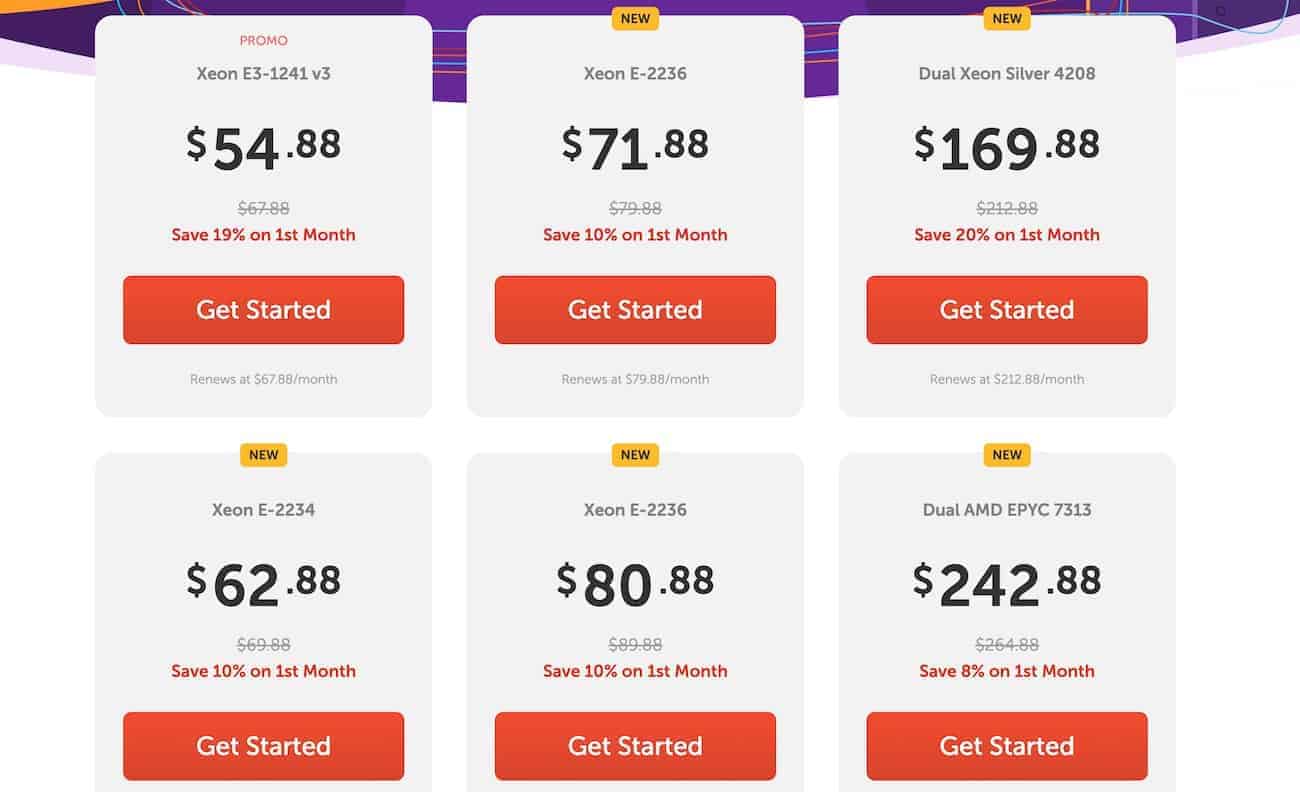 Entry Level Xeon E-2234 – $62.88/month. Offers mentioned features + 4 cores/8 threads @ 3.4 GHz (4.8 GHz) + 16 GB DDR4 RAM – ECC server grade + 480 GB SSD SATA disk space + 100 TB/month bandwidth + 1000 Mbps + 1 IPv4 dedicated IP
Medium Level Xeon E-2236 – $71.88/month. Offers mentioned features + 6 cores/12 threads @ 3.4 GHz (4.8 GHz) + 32 GB DDR4 RAM – ECC server grade + 2 x 480 GB SSD SATA software RAID disk space + 100 TB/month bandwidth + 1000 Mbps + 2 IPv4 dedicated IP
Advanced Level Dual Xeon Silver 4208 – $159.88/month. Offers mentioned features + 8 cores/16 threads @ 2.1 GHz (3.2 GHz) + 64 GB DDR4 RAM – ECC server grade + 2 x 1 TB SSD NVMe software RAID disk space + unmetered bandwidth + 500 GB backup storage + 1000 Mbps + 2 IPv4 dedicated IP
How long does it take to set up my Namecheap hosting account?
It depends on the type of hosting you've chosen. Shared and reseller hosting are automatically activated, and you can use them almost instantly. However, in VPS and dedicated hosting, Namecheap requires identity verification, which can take 2-4 hours. But all Namecheap hosting accounts are typically set up within 24 hours.
What is the Namecheap uptime guarantee?
Namecheap offers a 100% uptime guarantee. This means that your website will be accessible to visitors and online shoppers almost all the time. In the unlikely event that your website is down, Namecheap will credit your account.
Can I choose my data center location on Namecheap?
Namecheap data centers are located in the United States, United Kingdom, and Europe. You can choose your data center location on shared and reseller hosting through a drop-down menu. However, all its VPS plans are provisioned from its data centers in Atlanta or Phoenix, and its dedicated server plans are set up in Phoenix.
Does Namecheap offer a free domain?
Yes, Namecheap offers a free domain for the first year. After the first year, it will be renewed at an affordable price, depending on your plan.
Is Namecheap email good?
Namecheap Private Email offers a rich collaboration of advanced tools and reasonable pricing, making it an excellent choice for businesses. It allows large organizations to optimize teamwork throughout different mobile devices and email clients.
Final Words – Should You Opt for Namecheap?
Namecheap is a reasonably decent hosting service. If you want to run a small to medium-sized business or launch a startup without breaking the bank, Namecheap is an excellent choice. Its basic plans come with everything you need to get started.
Although Namecheap is one of the cheapest web hosting options, most freebies, like the free domain, are charged a renewal price after the promotional period is over. This drawback may be a dealbreaker for some users, making them opt for a different provider.
If you'd like to consider a different host without renewal prices, you may want to read our Hostinger review here. Some other well-known hosting providers are Bluehost and HostGator.
Disclosure of earnings: we use affiliate links in some of the hosting services that appear on this page. This helps our site cover the costs of the site, Thanks for your support. 
Read more