Bluehost Review 2022 – Does Popular Mean Best?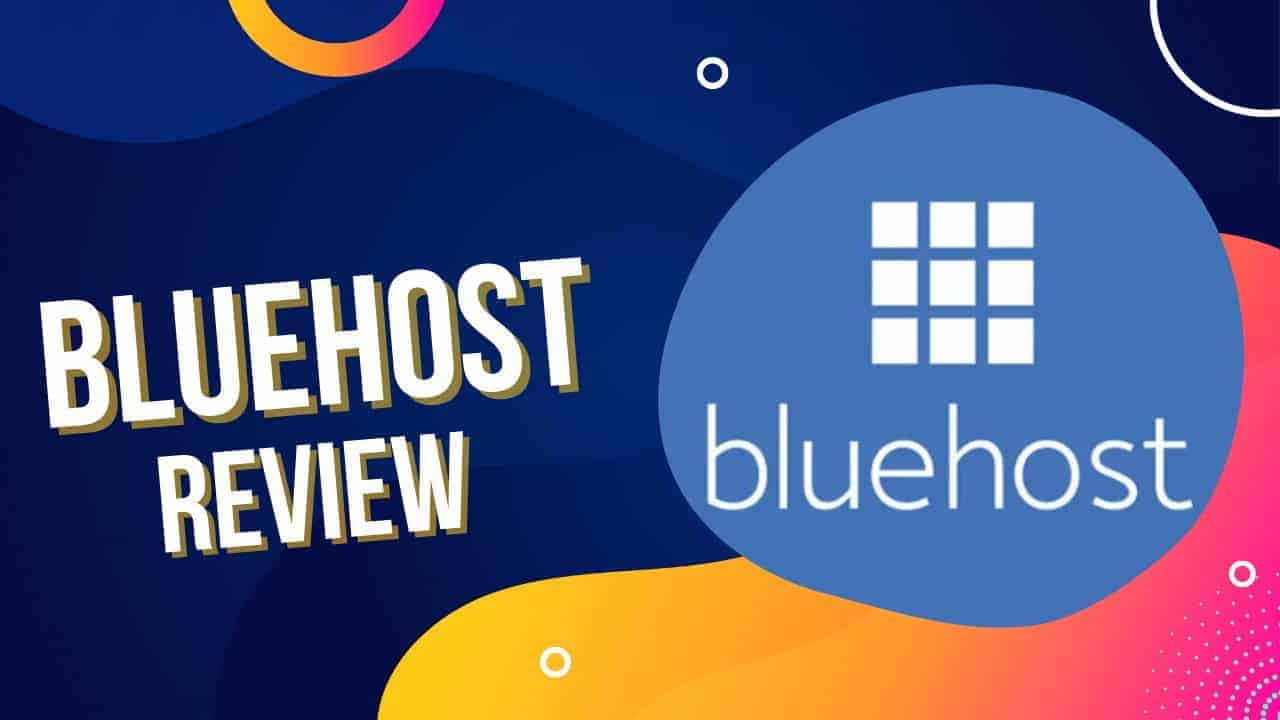 Reg. Price
$7.99
– Get 64% Off!
Bluehost is one of the most popular web hosting services and powers 2 million websites worldwide. But does that make Bluehost the best web hosting service for your needs? In this article, we'll thoroughly review Bluehost in terms of server performance, uptime, price value, hosting features, and more. Keep on reading to find out if Bluehost is the right hosting solution for you.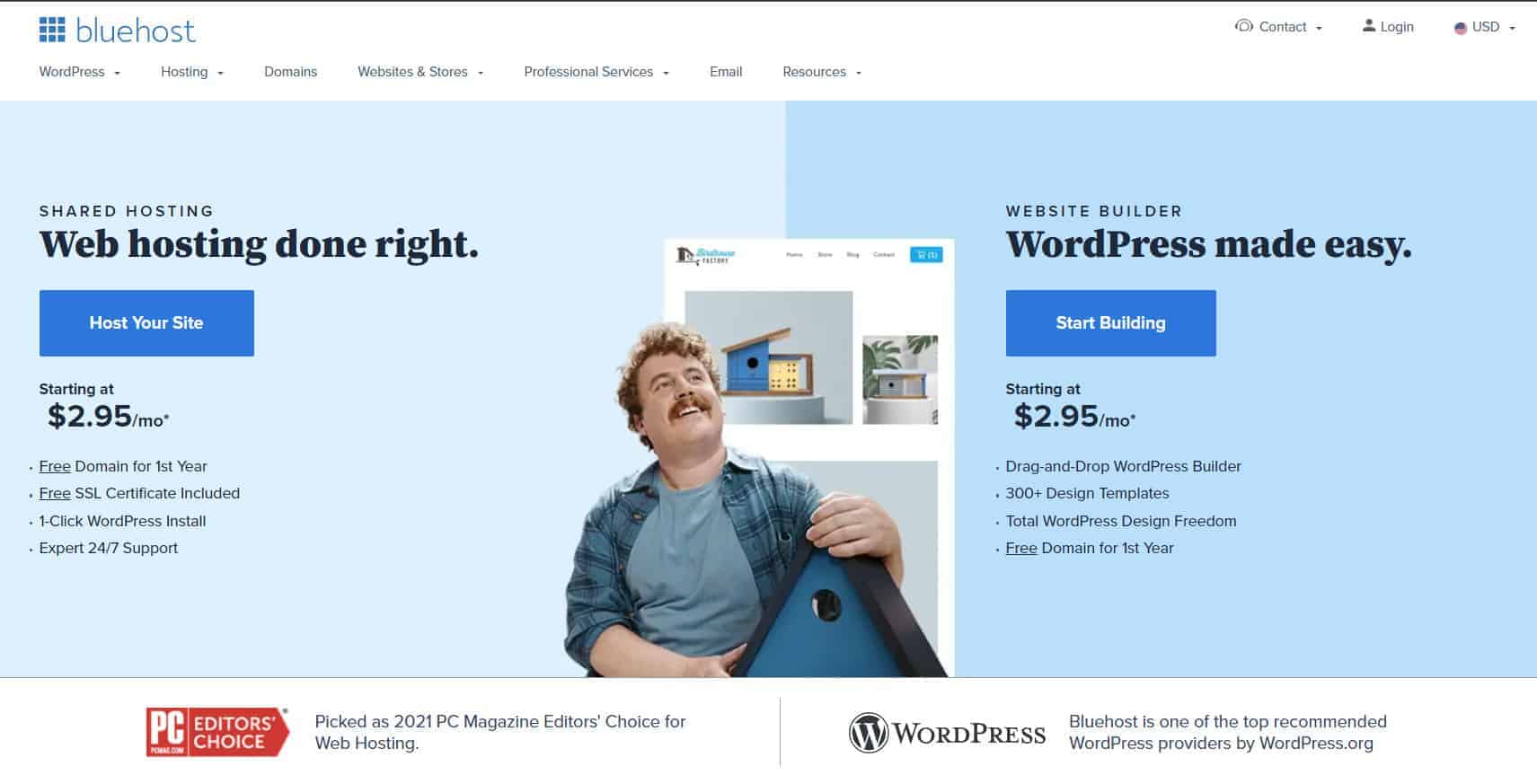 Bluehost is a well-recognized web hosting provider that came out back in 2003. The company is based in Utah and empowers over 2 million domain names. Users can opt for various hosting services at Bluehost, including shared hosting, online store hosting, managed WordPress hosting, and dedicated hosting.
As an authoritative web hosting solution, Bluehost has long-standing relationships with WordPress. Therefore, its hosting plans are optimized for WordPress and throw in WordPress-friendly features like free 1-click WordPress installation and WP website builder. As a result, Bluehost is the perfect option for WordPress hosting services.
Another standout value of Bluehost is affordability. Bluehost's pricing is not the cheapest, but it's competitive to make the provider suitable for most users and businesses. Most importantly, the company offers a range of hosting features (like a free domain name and SSL certificate) to ensure a smooth launch of your online business.
Here we'll look at the key benefits of Bluehost.
If your website's server is unavailable for a reason, your website won't be accessible either – leading to a poor user experience for your visitors. Not only that, but your website may also lose its SEO rankings as search engines find out your website is unavailable for an extended period. Therefore, maintaining a stable server uptime of around 99.99% is essential. An uptime of 99.99% in a year refers to about one hour of downtime the entire year – which is quite acceptable considering there's server maintenance to be done regularly. Thankfully, Bluehost's average uptime falls around 99.9% and 100% in most cases, making it a reliable host to go for. Though you don't get a server uptime guarantee, the track record of Bluehost's server uptime gives you peace of mind.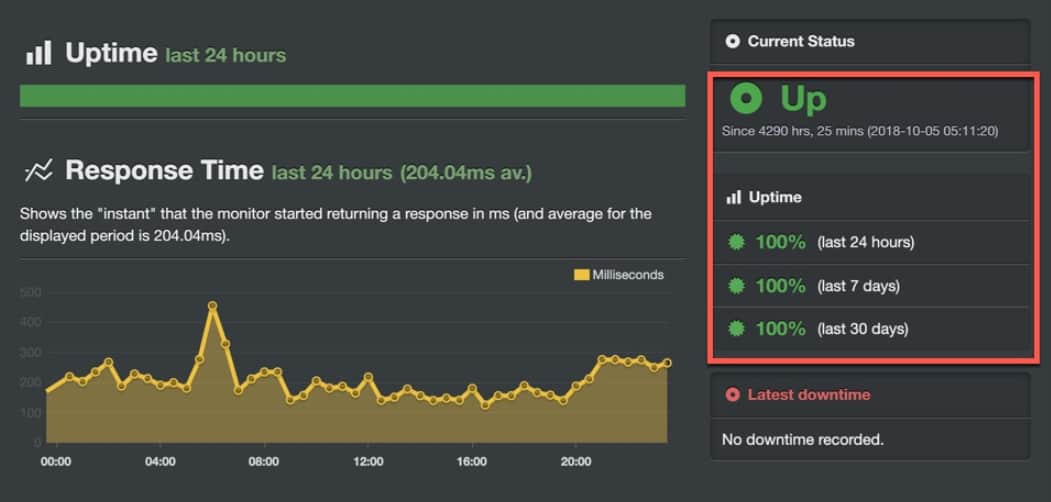 Data reveals that 53% of mobile visitors bounce off a website if the page takes over 3 seconds to load (source). Maintaining a good page loading performance is essential if you're looking to make the most out of your website.
Being in operation for almost two decades, Bluehost offers SSD-powered servers to ensure fast page loading speeds. In fact, tests reveal it only takes 2 seconds to load a well-optimized website when hosted on Bluehost.
Moreover, Bluehost also performs well in terms of traffic spikes (where there's a lot of traffic on your website simultaneously). As a result, your server doesn't crash when there are a lot of data requests on your site. However, choosing the right Bluehost plan is essential for optimal server performance according to your website's monthly traffic.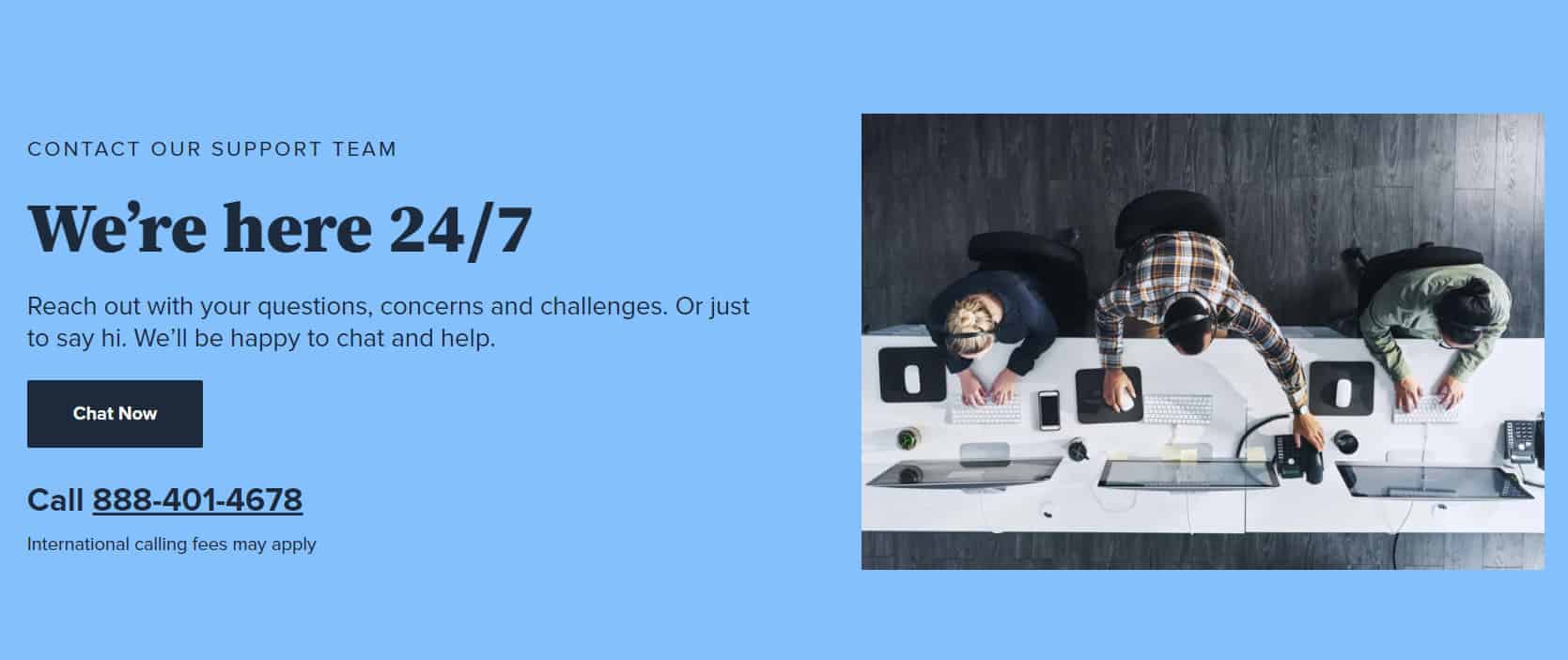 The best way to resolve a technical issue or discuss anything related to the website or hosting is by contacting the customer support of your hosting provider. Bluehost's customer support is super fast and effective. It's available round-the-clock through multiple channels (including phone, live chat, and ticket support) for your assistance.
Moreover, Bluehost's self-support resources, including blog and knowledge base, are extensive and up-to-date. Bluehost's blog keeps you posted on the latest features and technologies, while the knowledge base is a great way to find step-by-step tutorials.
Easy WordPress Integration
As Bluehost has long-standing relationships with WordPress, it comes pre-installed when you sign up at Bluehost. You can activate WordPress on Bluehost through the cPanel (the default control panel at Bluehost) within a few clicks once your account is set up. Once WordPress is installed, you can head over to your WordPress editor, edit your website, and add content using it.
Trusted & Established Provider
Bluehost has been around since 2003, holding almost two decades of experience in the web hosting field. It now hosts over 2 million websites and has been recommended by WordPress (the biggest CMS platform on the market).
Not only that, but Bluehost has been highly recommended by authoritative review organizations like TechRadar and PCMag. Moreover, the provider is backed by a team of 175 employees across different data center locations, making sure the users enjoy a smooth web hosting experience.
With all of that at hand, Bluehost is a trustable hosting solution that gets you peace of mind – knowing your online business is in safe hands.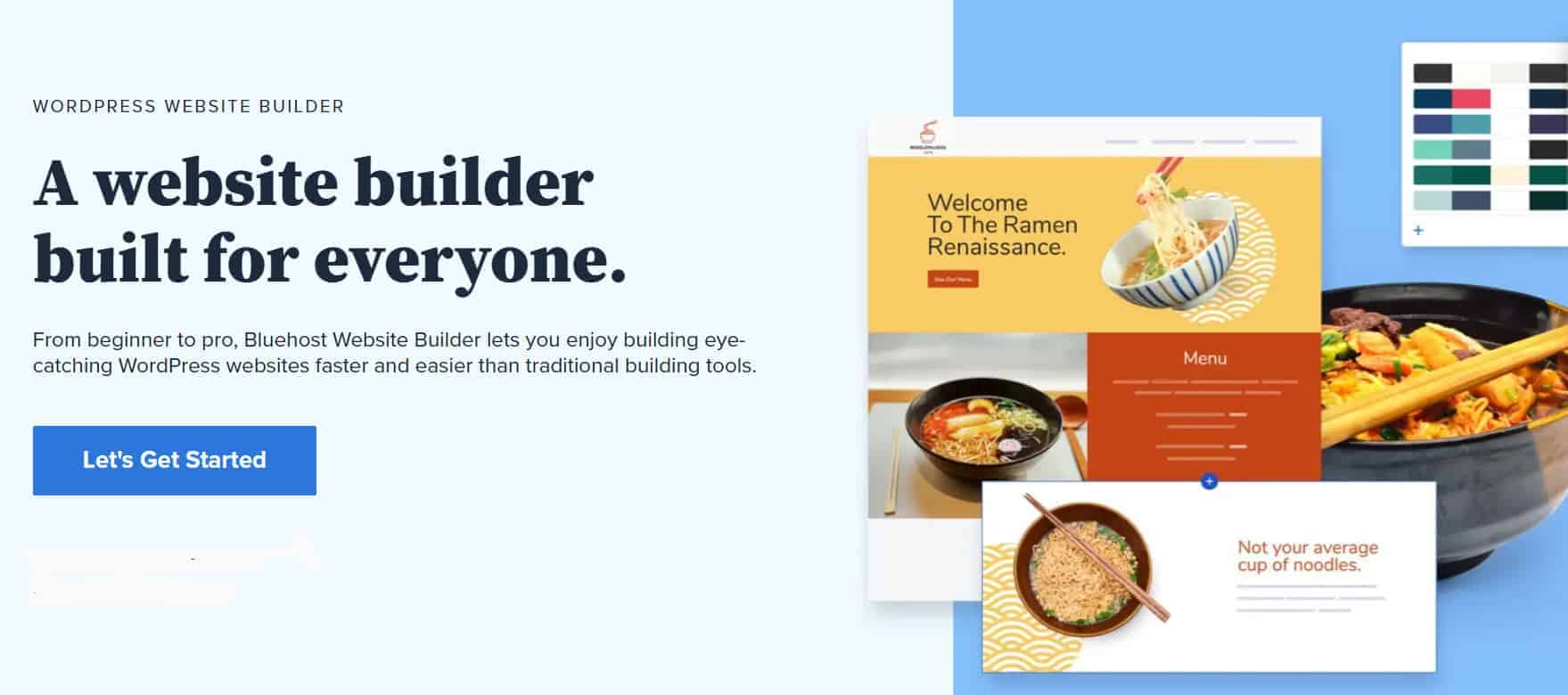 All hosting plans of Bluehost offer an enhanced WordPress website builder for free. It's a graphical website builder that lets you create professional websites without coding. The web builder packs a drag and drop functionality, allowing you to easily add and adjust elements on your website to customize its appearance.
What sets this WordPress builder apart from the pack is that it neither limits how many pages you can create nor displays ads on your website upon using the free version – making it the best professional website builder you can get for free.
Most importantly, the WordPress website builder offers a range of ready-made website themes that you can preview and customize further to have a professional website at hand without the coding expertise required.
Bluehost's web hosting and WordPress plans start from $2.95/mo while offering premium features like expert 24/7 support, free SSL certification, and CDN integration.
Compare it to other top providers like SiteGround, and you'll know that SiteGround's plans start from $3.99/mo while not even including a free domain name. Similarly, the stater hosting package at HostWinds costs $5.24/mo, and it too lacks a domain name.
With that said, it's easy to conclude that Bluehost's pricing is competitive and somewhat affordable. Though Bluehost has limitations of long-term contracts for added benefits, it provides a good value for your money overall.
All shared hosting plans of Bluehost offer additional benefits like:
Free professional domain name – so you won't have to buy one separately to power up your website.
SSL certification – so you won't have to pay for an SSL certificate additionally to improve your website's security and authenticity in sight of search engines, web browsers, and users.
CDN integration – so you don't pay extra for a CDN service that would improve your website's page loading performance and security.
30-Day Money-Back Guarantee
A 30-day money-back guarantee backs all hosting packages at Bluehost to get you complete inner satisfaction. While many other providers offer refund guarantees, their commitments are often underrated and come with restrictions – and sometimes scams.
But Bluehost's refund commitment is known to be legit and practical, making it an excellent hosting service to give a try. However, note that the refund guarantee only applies to the hosting packages you purchase and exclude additional services and tools like SEO tools, security plugins, etc.
Bluehost is optimized for beginners and not-so-tech-savvy individuals. Setting up a hosting account at Bluehost is pretty straightforward.
There are a few simple steps to follow, like entering your contact and payment details, and that's it – you're provided access to your hosting dashboard within minutes. No technical configurations are required. Installing applications and scripts is also pretty straightforward, as you can do that using enhanced cPanel (included with Bluehost's plans for free).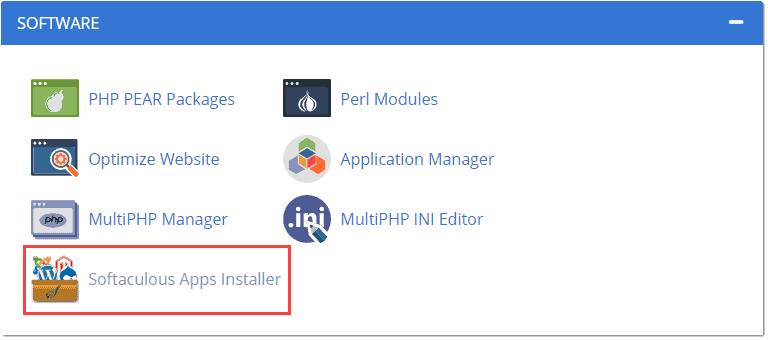 With the WordPress site builder included, building a professional website is beginner-friendly. The AI-driven themes further streamline the process by providing various pre-made templates.
No hosting service is perfect, including Bluehost. Here, we'll look at Bluehost's main drawbacks.
It turns out that Bluehost's renewal prices are much higher than the initial rates. For instance, the starter hosting plan (starting at $2.95/mo) renews at $8.99. So, your hosting expenditures will immediately increase as your initial subscription expires.
However, Bluehost's renewal prices are still acceptable, considering SiteGround's starter package (starting at $3.99/mo) costs $14.99/mo upon renewal. Anyhow, we recommend opting for a long-term plan at Bluehost to enjoy get maximum discounts.
Bluehost's upsell procedure is aggressive when singing up. It can easily confuse beginners and trick them into buying add-ons they may not even need. The plugins like SiteLock and Domain Privacy Manager are added to the cart automatically. However, there's an option to uncheck them (recommended) unless you really need those features.
Though Bluehost has managed to acquire a stable server uptime over the past years, there's no commitment regarding server uptime. On the other hand, alternative hosting providers like HostGator and SiteGround offer guarantees upon server availability. Not only that, but some providers also claim to offer a credit or bonus to make up for the penalty. It would be great if Bluehost starts putting out a guarantee on server uptime as well
Bluehost Plans and Pricing
Bluehost's hosting packages come in all shapes and sizes to suit business needs of all kinds. Here are the details of its major hosting services.
The shared hosting plans of Bluehost are perfect for anyone who's starting a new website or willing to transfer one that gets under 100,000 page views monthly. Bluehost's shared packages are similar to the WordPress plans regarding pricing and hosting features. So, here are the details of different shared plans at Bluehost:
BASIC – Starts from $2.95/mo and offers a single website with 50 GB storage and basic features like free domain, free CDN, and free SSL.
PLUS – Costs $5.45/mo and supports unlimited sites with unlimited storage. It throws in all the basic features while offering a 30-day trial for Office 365.
CHOICE PLUS – Also starts from $5.45/mo. This plan packs additional features like domain privacy and automated daily backups.
PRO – Costs $13.95/mo and provides advanced benefits like free dedicated IP and optimized server resources.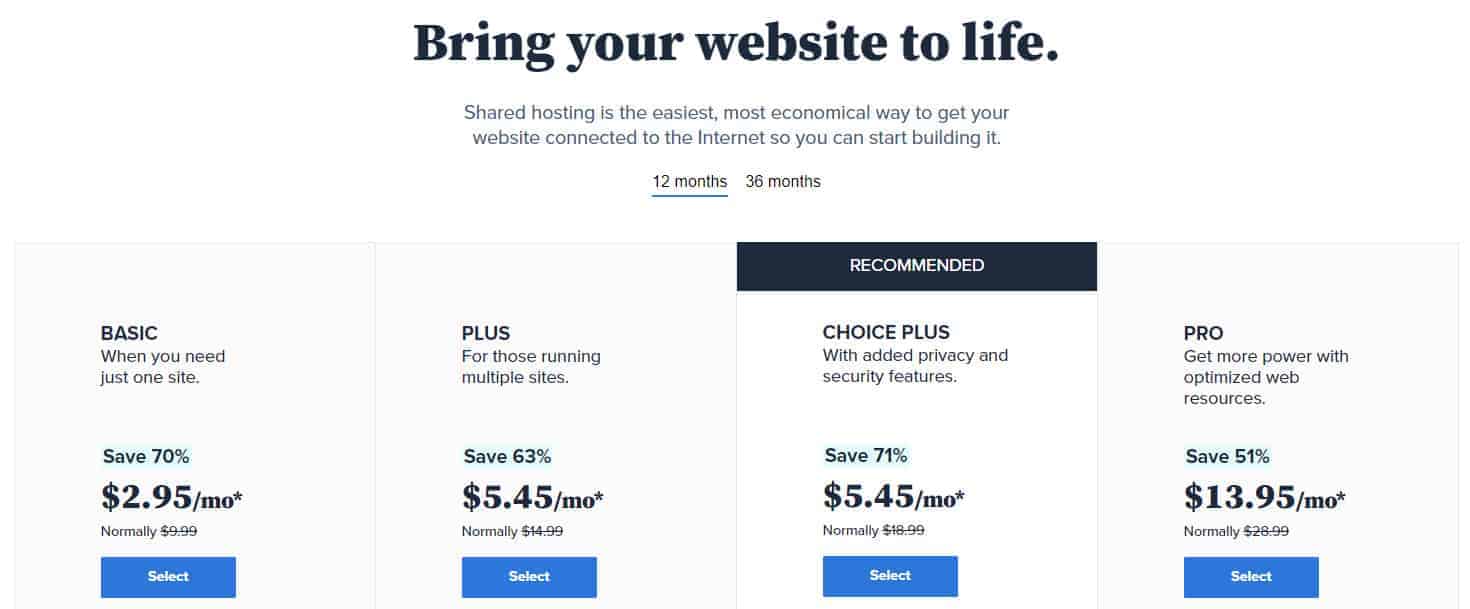 Note: You can start with the Basic plan and switch to a higher plan as required.
The online store plans of Bluehost are perfect for entrepreneurs willing to launch an eCommerce shop. These packages are backed by WooCommerce and offer various eCommerce-friendly features like email marketing, free Jetpack installation, payment processing installation, discount codes, and more. Other benefits include free CodeGuard Backups and support for a blog with the store.
Let's now have a look at the online store plans at Bluehost:
STANDARD – Starts from $15.95/mo and offers all the mentioned features.
PREMIUM – Costs $32.95/mo and throws in additional benefits like online booking, subscriptions, product customization, tax management, free domain privacy, and a free Office 360 trial.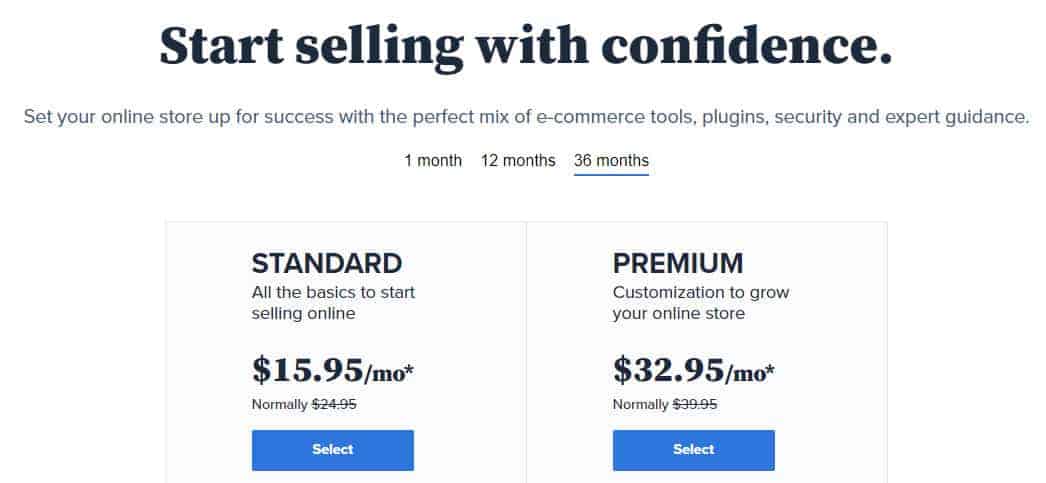 Managed WordPress Hosting
In case you have a network of WordPress websites you want to host or simply want top-tier WordPress performance, Bluehost's managed WordPress hosting is an excellent way to go. Bluehost not only offers blazing-fast performance with its managed WordPress servers but also offers multi-server and multi-site management for your convenience.
That said, all managed WordPress plans at Bluehost offer Jetpack analytics, a marketing center, 100+ free WordPress themes, malware detection, and daily backups. You also get unlimited websites, unlimited traffic & storage, and support for a staging environment with each package.
BUILD – Starts from $19.95 and offers all the mentioned features.
GROW – Costs $29.95/mo and offers advanced features like Bluehost review tools, Bluehost SEO tools, and Blue Sky ticket support.
SCALE – Starts at $49.95/mo and provides PayPal integration, unlimited backups & restore, unlimited video compression, and the premium Blue Sky chat support.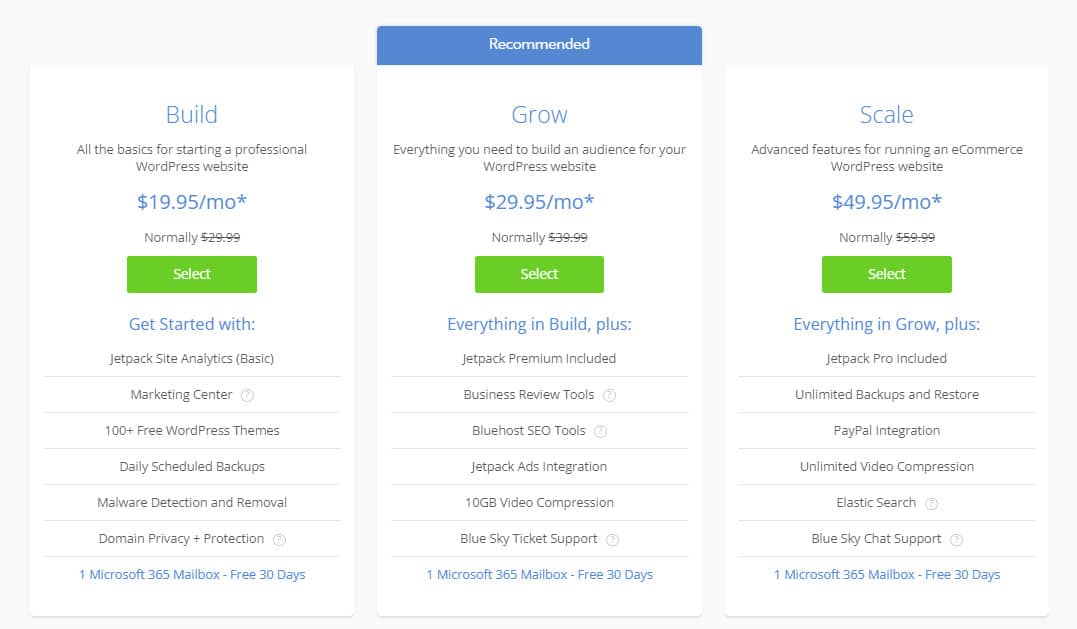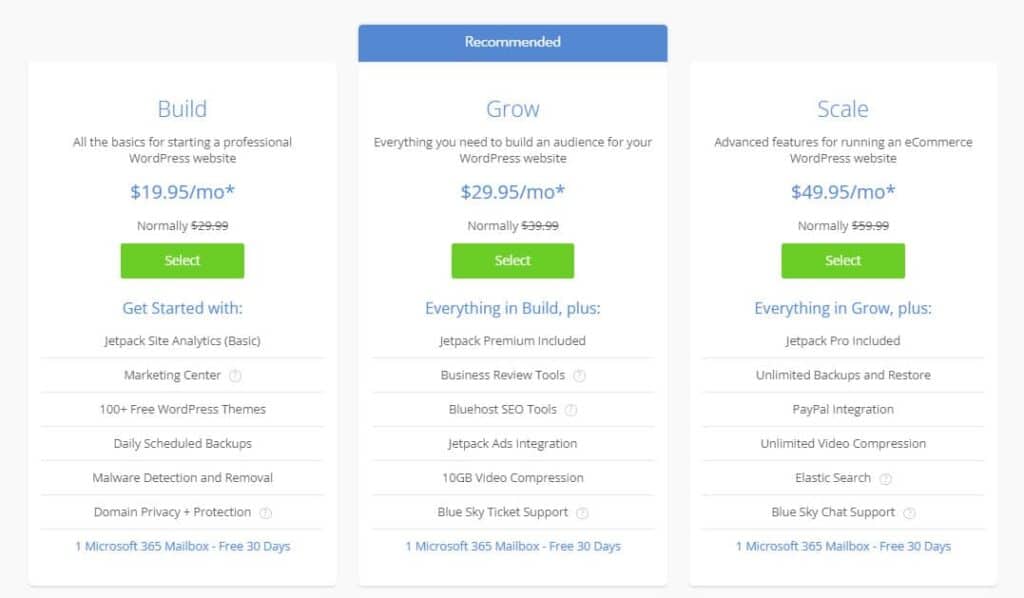 Dedicated servers are excellent for large projects that take a lot of hardware juice as they ensure top-tier performance with minimal fluctuations. Bluehost's dedicated servers are unmanaged and offer multi-server management, improved cPanel, free domain name, SSL certification, and dedicated support by experts. Here's an overview of dedicated servers at Bluehost:
STANDARD – Starts from $79.99/mo and packs all mentioned features with 3 dedicated IPs.
ENHANCED – Costs $99.99/mo and offers enhanced hardware resources with 4 dedicated IPs.
PREMIUM – Starts at $119.99/mo and packs more improved hardware components with 5 dedicated IPs.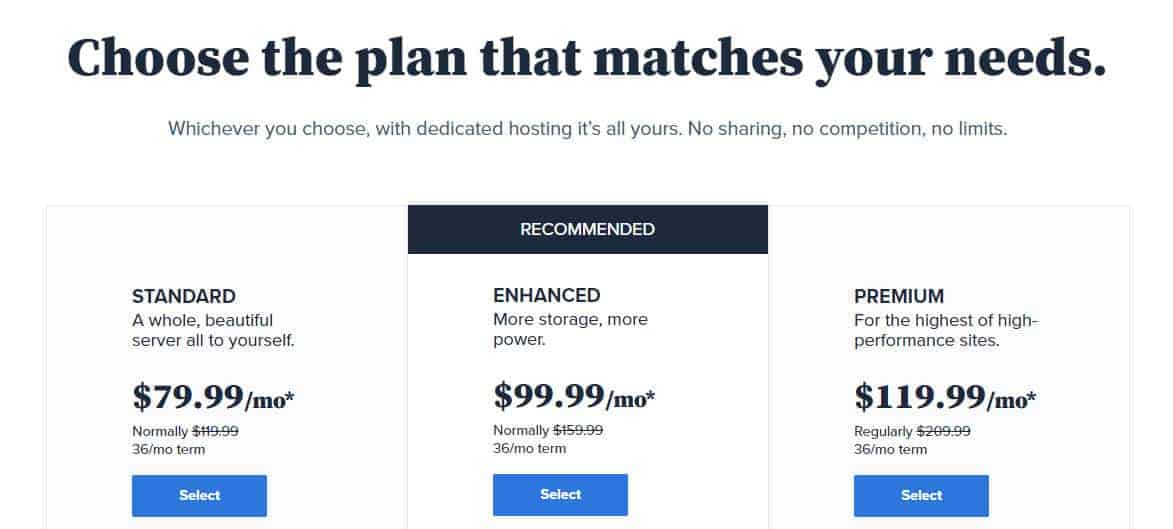 Here we'll look at answers to the most popular questions regarding Bluehost.
Can Bluehost be trusted?
Bluehost is a trustable hosting provider with over 2 million websites relying on it. It has been recommended by the largest CMS platform of all time (WordPress) and has been recommended by TechRadar, an authoritative review company.
Is Bluehost good for beginners?
Bluehost is perfect for beginners as it offers a user-friendly dashboard and control panel interface with easy navigation. Setting up a hosting account at Bluehost is straightforward. Moreover, a convenient drag and drop builder lets you build professional websites without knowing how to code. The accessible customer support is another significant addition, making it easy for beginners to host their websites.
What makes Bluehost different from other website hosting providers?
Bluehost's feature-rich hosting packages at affordable prices make it different from other hosting providers. Despite competitive pricing, it offers more useful features like a free domain name, ads credit, CDN integration, SSL certification, and more.
Is Bluehost good for blogs?
Bluehost is perfect for blogs as most bloggers choose WordPress and Bluehost is highly compatible with WordPress. Moreover, with 100+ AI-generated themes available, you can select one for your blog in no time to give it a professional look and SEO-friendly construction.
Can we use Bluehost without WordPress?
You can use Bluehost without WordPress by using an FTP file. All you need to do is copy your website's HTML and CSS files into appropriate folders on your hosting server, using Bluehost's control panel. As a result, you'll be able to effortlessly host a non-WordPress website on Bluehost. 
Does WordPress recommend Bluehost?
WordPress has been recommending Bluehost 2005 as the best hosting service. Surprisingly, Bluehost earned this award within two years of its inception. This long-standing relationship between Bluehost and WordPress is the secret behind their top-tier compatibility.
Do I need a credit card to sign up with Bluehost?
Bluehost offers various payment methods, including PayPal and credit cards. The provider supports all major credit cards, so that shouldn't be a problem. But if you're making a payment internationally, make sure your credit card is activated for international payments.
Where are Bluehost servers located?
Bluehost's servers are located in Orem, Utah. Unfortunately, Bluehost doesn't have a lot of data center locations around the world, unlike many of its competitors. But its data center is packed with well-optimized servers using advanced technologies and protocols like PHP 7, HTTP/2, and NGINX+ caching to make your web hosting experience as seamless as possible.
Bottomline: Is Bluehost the Right Hosting for You?
If you want to host your website on a trustable hosting provider without paying through the nose, Bluehost is your best bet. It's also a highly recommended option if you're looking to manage your website/s as productively as possible since Bluehost has optimized its dashboard and control panel well for user experience.
Moreover, Bluehost offers different hosting plans to suit business needs of all kinds. So, whether you're starting a blog, an eCommerce store, deploying an app, or managing your clients' websites, Bluehost is an excellent way to go.