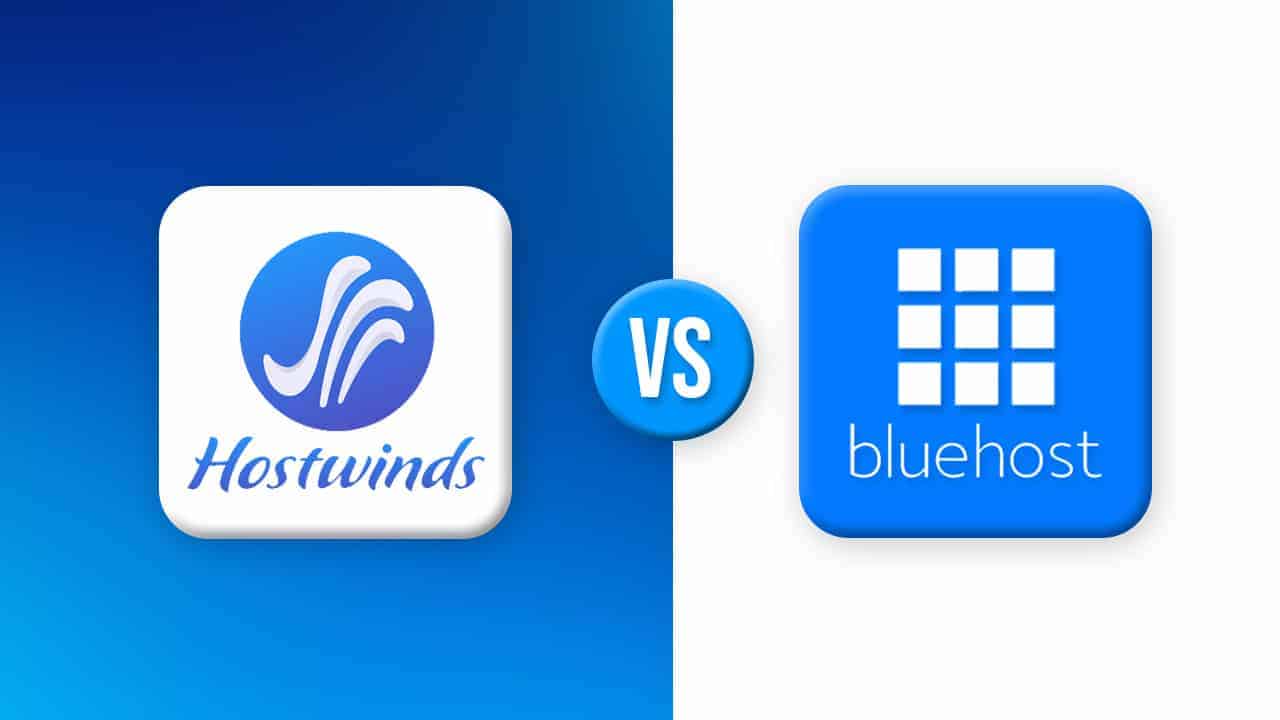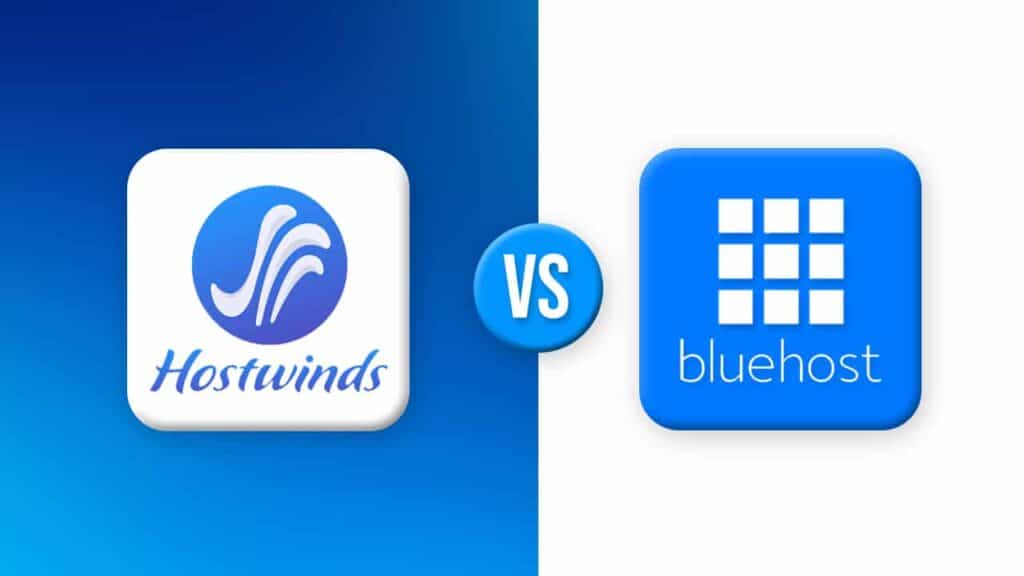 HostWinds and Bluehost are widely recognized in the web hosting industry – but Bluehost is much more popular among users, especially newbies. Both providers pack standout features which makes it hard to decide between them. So, really, is HostWinds or Bluehost a better option for your website? That we'll find out in this guide. Let's dive in.
Which Company Offers the Best Web Hosting Features?
The more features you get with a web hosting service, the better as they help expand your website's functionality. Bluehost and HostWinds both include the essential features with all their plans. But there are certain differences in their offered hosting features which we'll see below.
HostWinds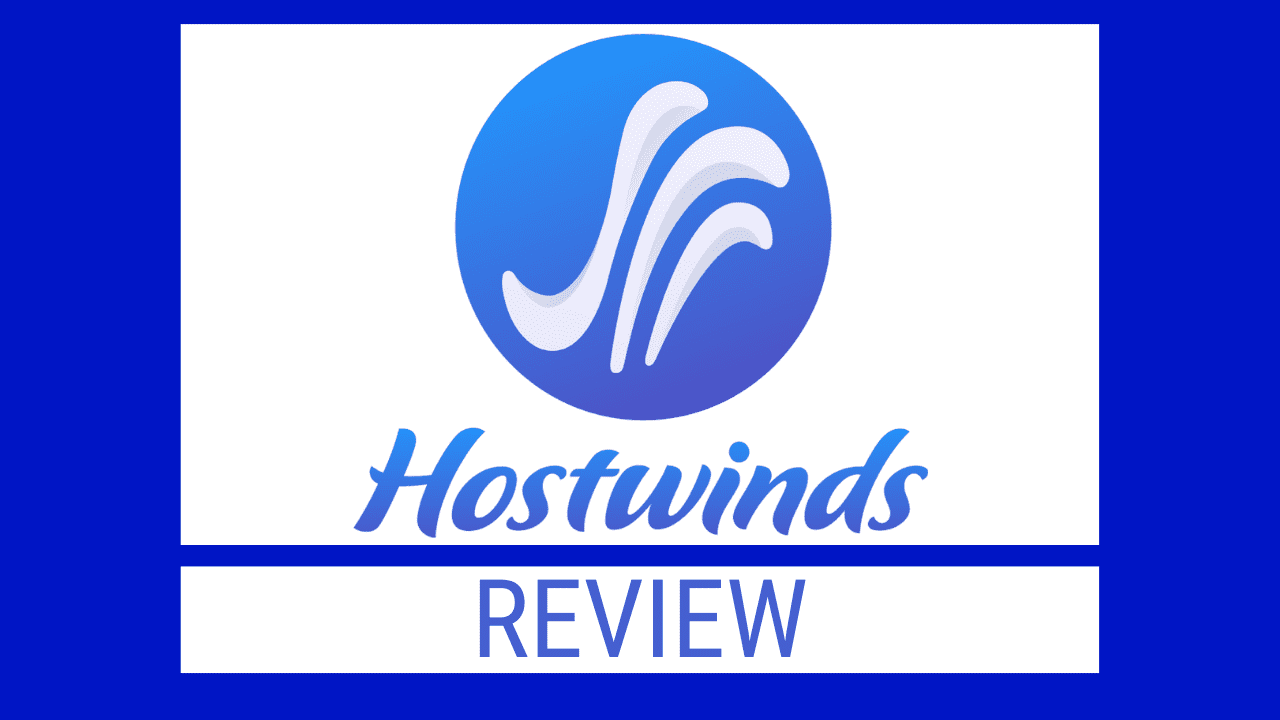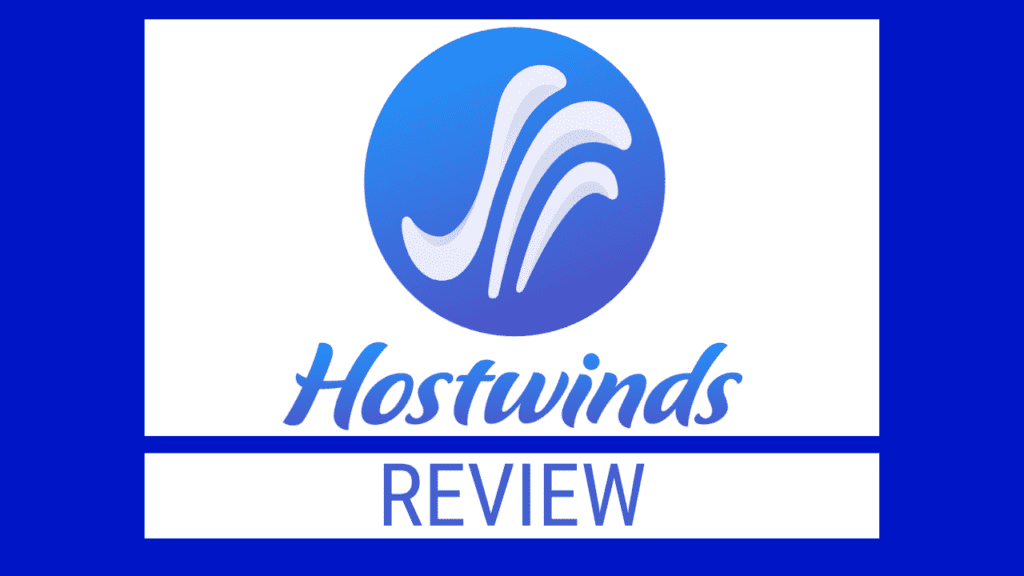 Bluehost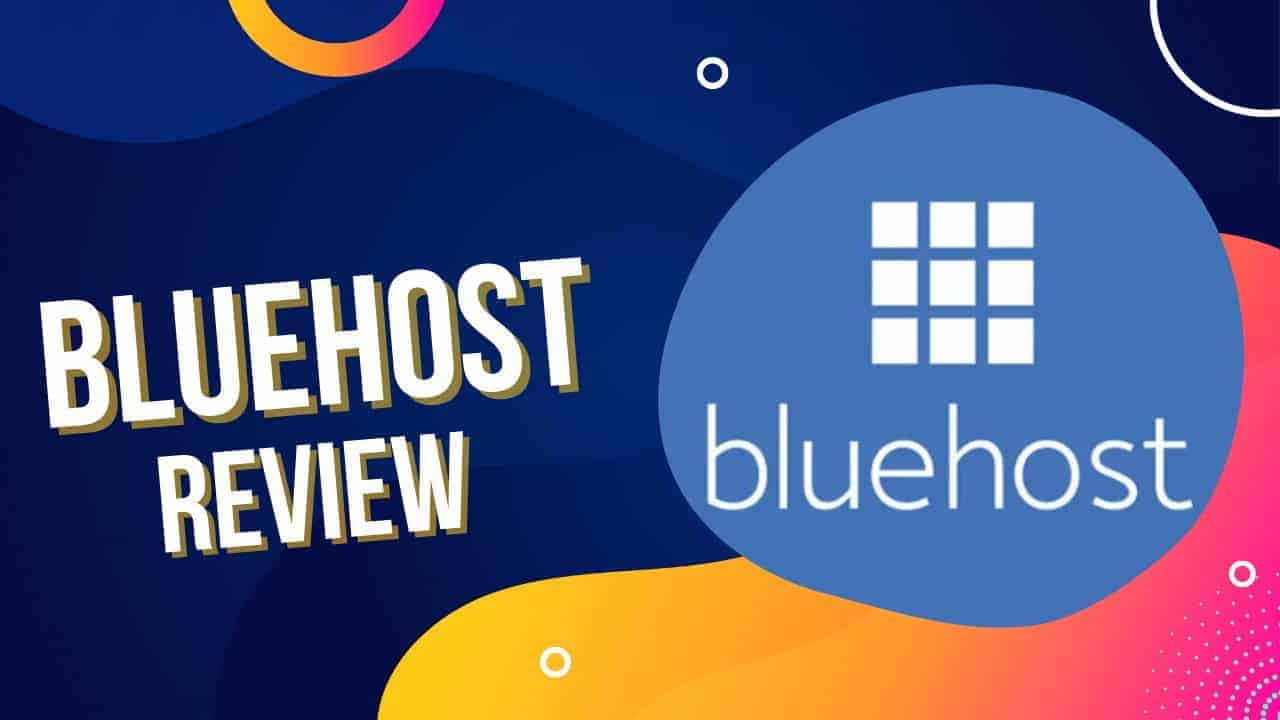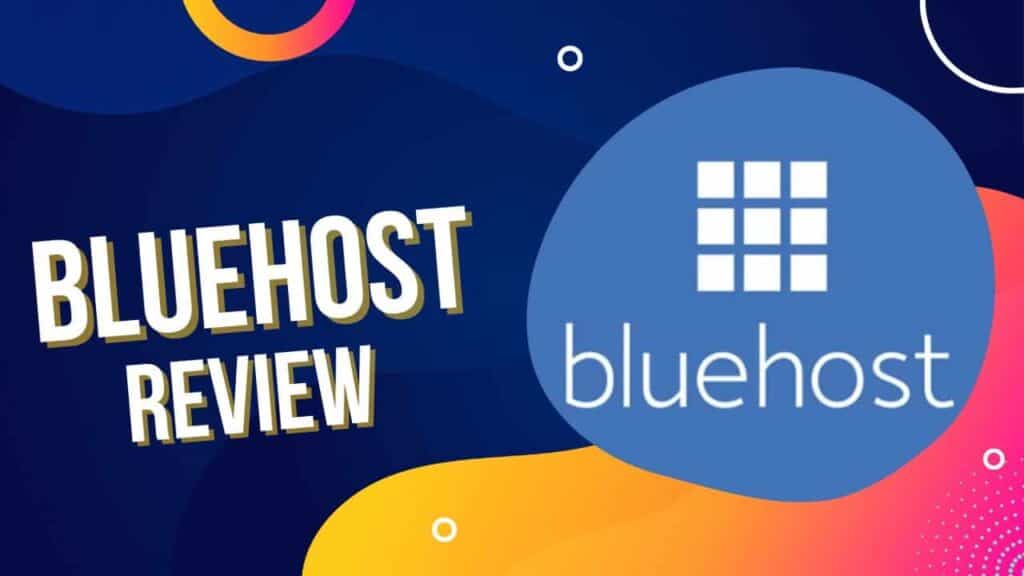 As mentioned, you get the essential features like quick setup and WordPress installation with both these providers. But note that HostWinds offers unlimited databases and professional email accounts with its plans. Whereas, you get limited databases with Bluehost. When it comes to professional emails, Bluehost charges extra for them.
Another standout feature of HostWinds is the inclusion of free dedicated IP, which you only get with the highest shared hosting plan of Bluehost. Apart from that, HostWinds' storage space and bandwidth are also unlimited, whereas Bluehost's starter plan only offers 10 GB of storage space. We also miss nightly backups and free site migration at Bluehost, as it costs extra for these services.
On the flip side, Bluehost throws in a free domain name, SSL certificate, and CDN integration which you don't get with HostWinds. But looking at the bigger picture, it's safe to say that HostWinds' offered hosting features are slightly better.
Is HostWinds or Bluehost Easier to Use?
An easy-to-use hosting provider will bring comfort to your life as you'll be able to manage your hosting account within clicks. HostWinds and Bluehost are both user-friendly hosting services but once again, there are some differences worth noting down.
HostWinds boasts an instant hosting account setup, allowing you to start customizing your website within minutes. Once your account is set up, you can access the cPanel control panel for installing a CMS platform on your website to make it easily customizable. If you choose to install WordPress, you'll need to follow a quick process that only takes a few clicks.
Moreover, HostWinds offers the Weebly website builder for creating your website. It's a no-code site builder that lets you design a beautiful website without knowing how to code. Apart from Weebly, you can also use the WordPress website builder tool for this purpose.
On the other hand, Bluehost's setup process is also quick. What sets it apart, however, is you get WordPress pre-installed. It could be because Bluehost is a WordPress-endorsed hosting provider whereas HostWinds isn't. Anyway, Bluehost also lets you choose between Weebly and WordPress site builders for creating a website.
Overall, Bluehost is slightly easier to use and is a more recommendable option for beginners.
Which Provider Scores Higher in Performance Tests?
HostWinds and Bluehost have been around for 14 years and 28 years respectively – so they're both pretty experienced. That is why both these providers perform well in server reliability and speed tests.
The faster a server responds when a user lands on your website is called server performance or server speed. It impacts how fast your website loads, which can then impact the user experience of your visitors and the SEO rankings of your website.
HostWinds and Bluehost have quite the same server loading performance. The websites hosted on HostWinds load within 2-3 seconds and the same applies to Bluehost. However, we've noticed that HostWinds' server response time could've been faster compared to Bluehost's. So overall, Bluehost boasts slightly better server performance.
Also, Bluehost includes free CDN integration which adds up to the loading speed of your website. Whereas, with HostWinds, you will have to pay extra for that.
When it comes to server uptime, both providers perform pretty well as their average uptimes fall around 99.99%. But you get complete peace of mind with HostWinds as they bring forth a 99.999% uptime guarantee, whereas Bluehost's uptime is not guaranteed – but still proven by its track record.
Overall, we think it's a tie as HostWinds and Bluehost are both performance-packed hosting services and capable enough to trust for your business.
Which Provider Will Be More Affordable?
Affordability is also an important thing to consider when deciding between HostWinds and Bluehost. Of course, you'll look at how much it costs for you to sign up and create a hosting account at HostWinds and Bluehost but there's more to it. It's because many people overlook the renewal pricing of a hosting plan, which is generally higher than the initial term.
Here we'll compare the pricing of HostWinds vs Bluehost by looking into how much their shared hosting plans cost. We'll also take a deep dive into their renewal prices to find out which one is a long-term affordable solution.
HostWinds' shared hosting plans start from $5.25/mo, $6.74/mo, and $8.24/mo respectively. On the other hand, the shared plans of Bluehost cost $2.95/mo, $5.45/mo, and $13.95/mo respectively. It's clear that Bluehost's initial rates are much cheaper than that of HostWinds.
When it comes to renewal cost, HostWinds' starter plan ($5.25/mo) renews at $8.99/mo. Whereas, Bluehost's first shared plan ($2.95/mo) costs $9.99 upon renewal. This means the renewal prices of Bluehost and HostWinds are quite the same.
But if you look at the bigger picture, you'll notice that Bluehost offers many features for free, so you won't have to buy them. These include the free domain name and CDN integration. Whereas, these are not included with HostWinds for free, so you'll need to pay extra for them.
In a nutshell, we think Bluehost is slightly more affordable compared to HostWinds and therefore, offers a better value for your money. 
Should You Choose HostWinds or Bluehost for Your Website?
Deciding between HostWinds and Bluehost totally comes down to your requirements.
If you're looking for the best value for your money, Bluehost is a clear winner. It's because you get a variety of extra hosting features for free with Bluehost, that HostWinds charges extra for.
On top of that, Bluehost is a WordPress-endorsed hosting service that fits WordPress enthusiasts perfectly. Furthermore, it's also a good option for people who'll be running ad campaigns on their website, as it offers Google Ads credit for US-based customers.
On the other hand, HostWinds is considerable if you need a highly reliable hosting provider that guarantees stable server uptime. Though Bluehost's uptime has been pretty solid in the past, you don't get an uptime commitment with Bluehost, as you do with HostWinds.
Apart from that, if you're a business and need professional email accounts, you can consider HostWinds as it offers unlimited emails for free. Moreover, if you have an existing website and you're looking to switch hosts, HostWinds can be a good choice as it offers free website migration.
HostWinds and Bluehost are both highly reliable, experienced, and trustable hosting companies. They both perform well at key features like included hosting features, reliability, speed, and affordability. But as a rule of thumb, they have certain differences so that not both of them might be suitable for you.
We endorse Bluehost more than HostWinds, as it offers many paid hosting features for free, including a domain name and CDN integration. But as Bluehost doesn't offer free site migration and HostWinds does, you can choose the latter to avoid site migration costs.