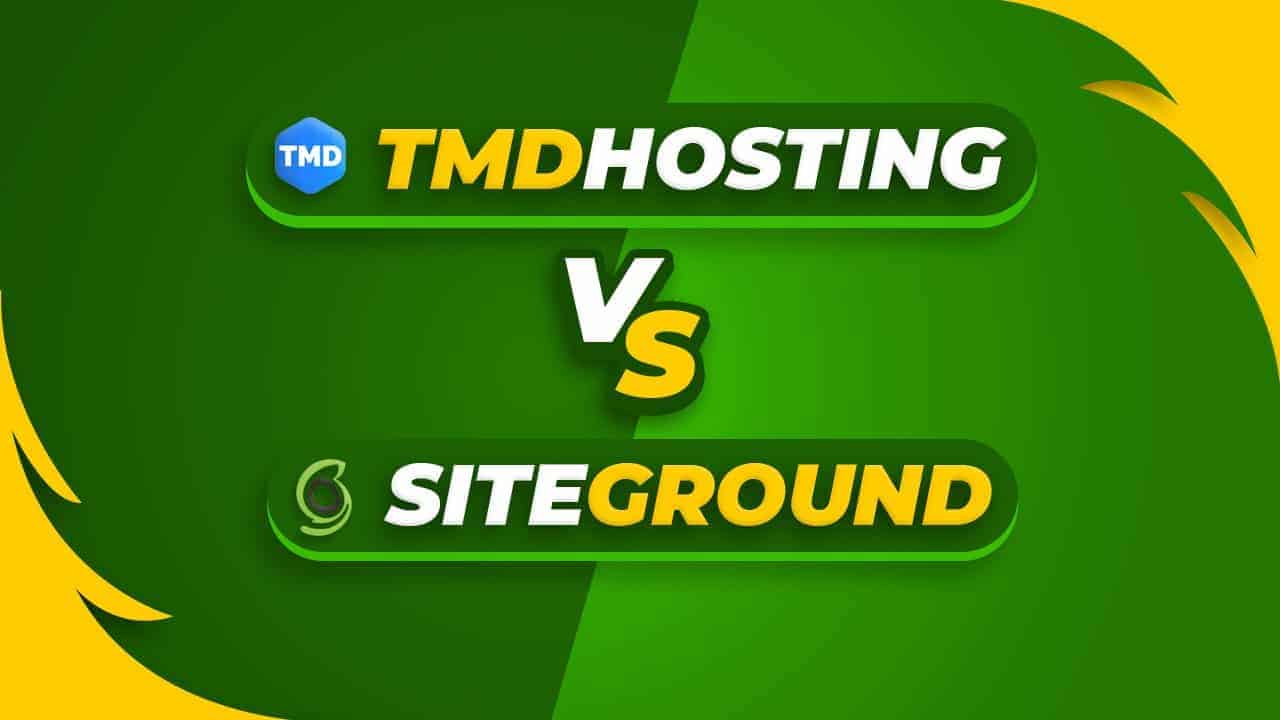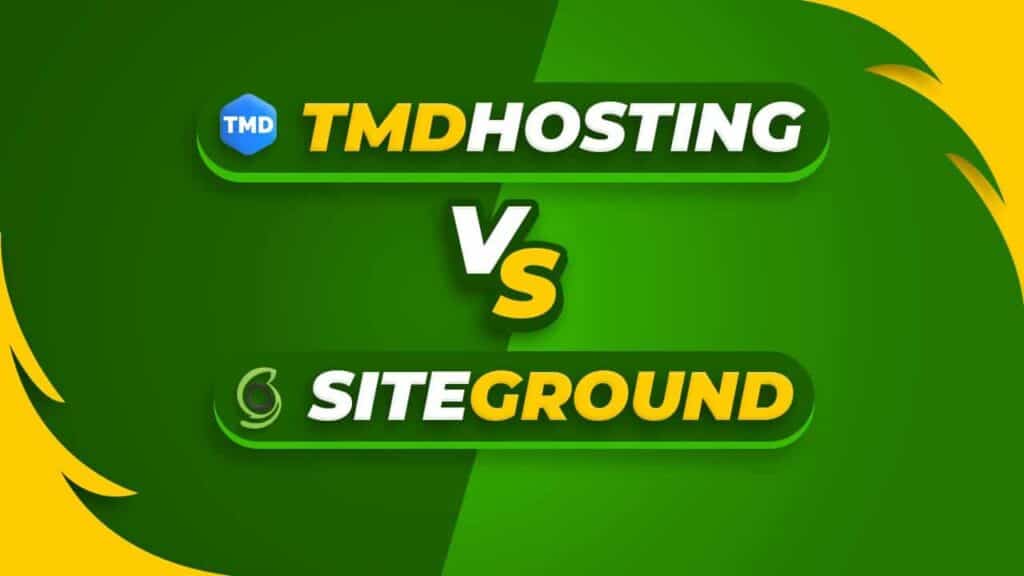 Though TMDHosting is not as renowned as SiteGround, it tends to offer competitive web hosting services at a cheaper price. But is TMDHosting the right option for you? Or, does SiteGround outrun it in the key aspects like loading speeds, uptime results, affordability and customer support?
Which Company Offers the Best Features?
TMDHosting and SiteGround both are feature-rich web hosting services. Here we'll be comparing their hosting features to see which one offers better features.
TMDHosting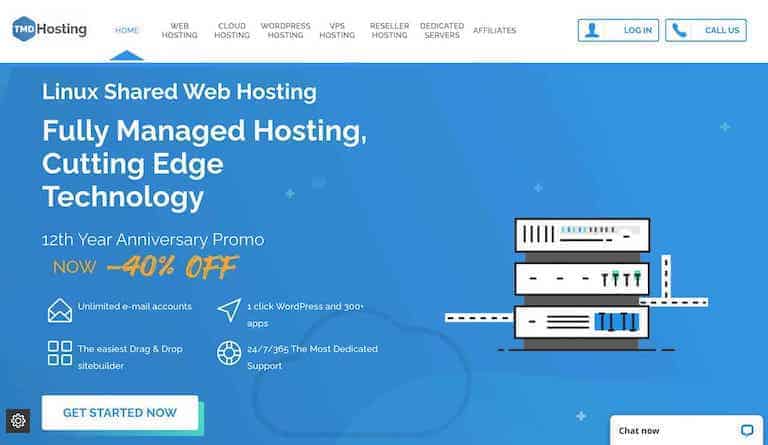 TMDHosting is a feature-rich hosting service that offers all the essential features with its hosting plans. These include unlimited email accounts, SSL certification, a drag-and-drop website builder, support for caching, and a free domain name.
But that's not all – you also get advanced features like improved security which consists of live malware protection, email scanning, and firewall monitoring. On top of that, TMDHosting offers daily data backups so you rest assured your data is safe and protected. Plus, the inclusion of free website transfer is yet another significant addition.
SiteGround
Being in the industry since 2004, SiteGround also performs well when it comes to web hosting features. All shared plans of SiteGround include basic features like an SSL certificate, managed WordPress, a pre-installed WordPress app, and CDN integration.
SiteGround stands out when it comes to the advanced hosting features. Its enhanced security suite is equipped with a secure firewall and an anti-bot system that ensures only real users visit your website. Plus, it packs top-tier caching for maximum performance.
Apart from that, SiteGround also offers daily data backups and unlimited email accounts but its services are eCommerce-friendly as well. The smooth website transfer and support for advanced apps also count as some great features of SiteGround.
Overall, SiteGround stands out TMDHosting by offering more advanced and useful features. But TMDHosting is no less as it offers a free domain name, which SiteGround lacks. Simply put, both providers offer all the basic features followed by lots of advanced features.
Is TMDHosting or SiteGround Easier to Use?
A clean and minimal dashboard will make it easy for you to maintain your website as needed, making it an important hosting feature to consider. Both providers offer user-friendly dashboards with easy navigation, though SiteGround's interface looks more friendly and vibrant.
When it comes to setting up WordPress on your website, both providers offer automated WordPress installation. But SiteGround goes one step further by automatically activating WordPress on your website so you can start adding content to your website right away.
On the flip side, TMDHosting's one-click WordPress installation means you'll need to activate the pre-installed WordPress yourself – but it's not a big deal, since you only have to click the Activate button.
If you're looking to migrate your existing website to another hosting service, note that SiteGround will offer a much smoother and more friendly experience. SiteGround's site migration service takes the responsibility of transferring your website's data to their servers with minimal server downtime.
TMDHosting's website transfer is also quite easy. But it can be a bit challenging for not-so-technical users as you'll be handling some of the technical tasks yourself. Anyway, it's great that none of these companies are charging for site migration, unlike providers like Bluehost.
Overall, SiteGround performs better when it comes to ease of use as it offers a more attractive dashboard along with a quick and easy WordPress setup. Also, its migration process is more convenient and worry-free for users.
Which Provider Scores Higher in Performance Tests?
Performance plays a big role in your experience with a web hosting service. The higher the hosting provider scores in the performance tests, the faster your website will load when hosted in it. And remember, a fast-loading website doesn't only lead to a better user experience but is also SEO-friendly.
TMDHosting
TMDHosting has been pretty average when it comes to performance. But in recent years, it has improved quite a lot. At this point, the websites hosted on TMDHosting generally load between 2-3 seconds, which is a decent loading performance. However, its response time is a bit poor – capped at 1-2 seconds while the average response rate is 600ms.
So, though TMDHosting boasts a good loading speed overall, it can surely be improved by fixing the poor response rate. And if a fast-loading website is your top priority, you better get away with SiteGround.
SiteGround
SiteGround is renowned as one of the fastest hosting services on the market. The provider uses technologies like caching, CDN, and ultra-fast SSD drives to provide a top-tier loading performance.
The websites hosted on SiteGround tend to load within only 1-2 seconds. The response rate of SiteGround is also pretty solid, making it a clear winner among TMDHosting.
Does TMDHosting or SiteGround Offer Better Customer Support?
A fast and friendly customer support service is important to help you through issues and answer the queries you might have. TMDHosting and SiteGround both offer 24/7 customer support services.
TMDHosting
TMDHosting packs decent customer support that's available through live chat and ticketing system. Both these channels are reachable round-the-clock so you can get your issue solved anytime. Also, TMDHosting claims that its representatives reply within 15 minutes to not keep you waiting.
Apart from that, TMDHosting also offers a detailed knowledge base where you can find answers to most of your issues without contacting a support agent.
SiteGround
SiteGround's support service is one of the best ones around. It's available 24/7 for your help and is reachable through live chat as well as phone.
Unlike most hosting services, SiteGround's phone support is also available round-the-clock and is not limited to business hours only. Moreover, you'll also find detailed tutorials and articles on SiteGround's website to solve your issues. 
Which Provider Will Be More Affordable?
Every other hosting provider tends to offer discounted initial rates but web hosting is an ongoing cost. Once your initial subscription expires, you'll need to renew it at the standard cost, which is generally higher than the discounted rate. So, before long-term affordability of a hosting provider before committing to it.
TMDHosting is quite affordable as its shared hosting plans cost $2.95/mo, $4.95/mo, and $7.95/mo respectively. The renewal rates are also not very high, as the starter plan ($2.95/mo) renews at $4.95/mo. This makes TMDHosting an affordable hosting provider in the long run.
SiteGround's initial rates, on the other hand, are also quite affordable. Its shared plans start from $2.99/mo, $4.99/mo, and $7.99/mo respectively. But its renewal prices are quite high, as the starter plan ($2.99/mo) costs $14.99/mo upon renewal. Anyway, we've learned that SiteGround's long-term users find its services worthwhile, thanks to their topmost quality.
Should You Choose TMDHosting or SiteGround for Your Website?
TMDHosting and SiteGround both have their benefits and downsides, making them suitable for different use cases.
When to Choose TMDHosting
TMDHosting is a budget-friendly hosting solution that caters to small websites and projects that don't require top-tier performance. If you're seeking a suitable hosting service to host a new website but don't want to pay expensive renewal rates afterward, TMDHosting is the perfect way to go.
When to Choose SiteGround
SiteGround is most effective for business websites and projects, like blogs, eCommerce websites, and web apps. It's the most suitable solution for users looking for top-quality customer support, performance, reliability, and features without worrying about the price.
TMDHosting and SiteGround both are remarkable hosting services. Both companies have been operational for decades and have served hundreds of thousands of websites so far.
While TMDHosting is perfect for users on a budget, SiteGround is our recommended option for people looking for topmost quality with price being no object. It's because SiteGround performs better than TMDHosting in terms of customer support, reliability, performance, and hosting features, but TMDHosting wins the long-term affordability round.
To learn more about either host, you can check out our dedicated reviews: